Educate Out Loud: A Research and Practice Symposium
Time
9:00 am - 5:00 pm (CST)
Description
The College of Education welcomes all students, faculty, staff and friends of the college to Educate Out Loud: A Research and Practice Symposium. Dedicated to exploring issues and topics related to the LGBTQIA+ community, the full-day conference will unpack areas such as teacher preparation, higher education and the field of education generally.
Built on the foundations of the college's signature impact areas, the symposium will feature a keynote presentation, interactive breakout sessions and workshops focused on:
Advancing equity and eliminating disparities in education and health
Attending to place and content
Thriving through transition
Registration is required and free parking will be available to all registered attendees. Doors open at 8:15 a.m. and there will be a light reception following the symposium starting at 4:15 p.m. Lunch will be provided by Primizie Catering in the TCC Dining Room.
Keynote Speaker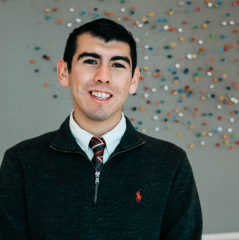 Dr. Antonio Duran
Antonio Duran (he/him/él) is an assistant professor of higher and postsecondary education in the Mary Lou Fulton Teachers College at Arizona State University. His research broadly examines how historical and contemporary legacies of oppression influence college student development, experiences and success. Connected to this central thread, he is also interested in how scholar-practitioners use the above knowledge in their practice. He primarily uses critical frameworks (e.g., intersectionality, queer of color critique, quare theory, jotería studies) to complicate the field's understanding of racism, heterosexism, trans oppression and other forms of marginalization on college campuses.
---
Schedule
8 – 9 a.m. Check-in
9 – 10 a.m. Opening Session
10:15 – 11:15 a.m. Session One: Advancing EQUITY and Eliminating Disparities in Education and Health
11:15 a.m. – 12:45 p.m. Lunch
12:45 – 1:45 p.m. Session Two: Attending to Place and CONTEXT
2 – 3 p.m. Session Three: Thriving through Transition
3:15 – 4:15 p.m. Closing and UT Panel
4:15 p.m. Social
---
Parking
Parking is available free of charge in "Lot 40." Download and print the parking pass below prior the event – you'll also receive the same pass via email if you're registered. If you forget, we'll have some extras available at check-in.
---