Prospective Students
Welcome
The College of Education at UT Austin—the flagship university within the UT system—is a world leader in addressing challenges in education, equity and health. Ranked #18 Best Education Schools by U.S. News & World Report, the college is committed to preparing today's students to be future educators, leaders and researchers who have the knowledge and skills to make a meaningful impact and positively transform lives, communities and policies.
The College of Education is home to five academic departments—Curriculum and Instruction, Educational Leadership and Policy, Educational Psychology, Kinesiology and Health Education and Special Education. Each department is consistently ranked among the top in the nation in their specific area.

Impact and Outcomes
Whether you are an undergraduate or graduate student, The College of Education has a long history of preparing educators, practitioners, leaders and innovators to become advocates for people, places and pursuits.
Undergraduates can focus on developing their skills to be prepared and certified in a wide variety of educational, health-related professions or out in the community. Graduate students work alongside expert faculty and class peers to research and address educational issues that have a direct effect on the lives of children and communities.
With the support of world-class faculty, academic advisors, career coordinators and student organizations, all College of Education Longhorns are supported and prepared for whatever the future holds.
Visit Us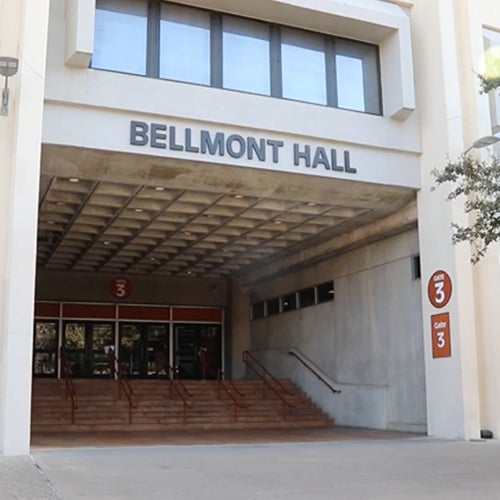 The College of Education is located in the George I. Sánchez Building near the corner of Martin Luther King Blvd. and Congress Ave, just blocks north of the Texas Capitol and next door to the Blanton Museum. Our Department of Kinesiology and Health Education is located in L. Theo Bellmont Hall, attached to DKR Texas Memorial Stadium.
Our world-renowned UT Austin campus is a thriving community, with many famous attractions, including libraries, museums and public art displays, located near the heart of downtown Austin.
Request Information
Tell us a bit about yourself and what programs you are interested in. We'll be in touch with information soon!
---
Get to know our nationally ranked College of Education Longhorn family at world-renowned UT Austin. In the heart of Texas, our college and our university empowers the best and brightest toward inspiration, innovation and research, paving the way for future generations to change the world on the Forty Acres and beyond.
The College of Education continues to be one of the most diverse colleges on campus welcoming students of many different backgrounds. Hear alumnus Brittney Fernandez tell her story of being the first person in her family to go to college.