How to Apply
Thank you for your interest in joining the College of Education! You may be surprised by the wide variety of bachelor's, master's and doctoral programs we offer that go beyond preparing the next generation of teachers, many of which are ranked in the top 10 of education and health/sport programs. Our advisors and graduate coordinators can help you choose the right major and program that best fit your career goals. We encourage you to attend one of our information sessions and to reach out with any questions you may have. Keep reading to learn more about how to join us. We look forward to seeing you on campus!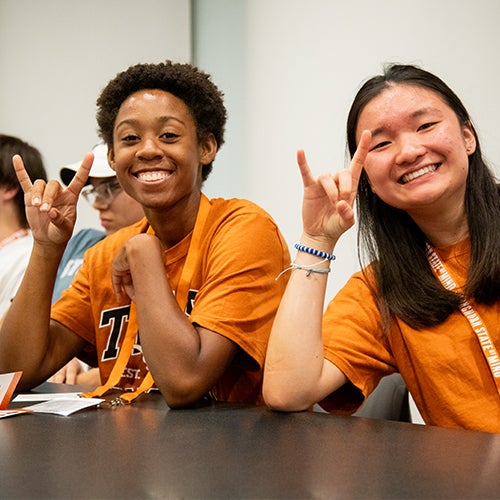 Incoming Freshmen
The university's Office of Admissions provides information about the steps you need to follow and the information you will need to have available in order to apply as a first-time college student. Learn more about the freshman admissions process.
You are encouraged to attend one of our prospective student information sessions. Information sessions are offered multiple times each month. For a complete list, visit our events page.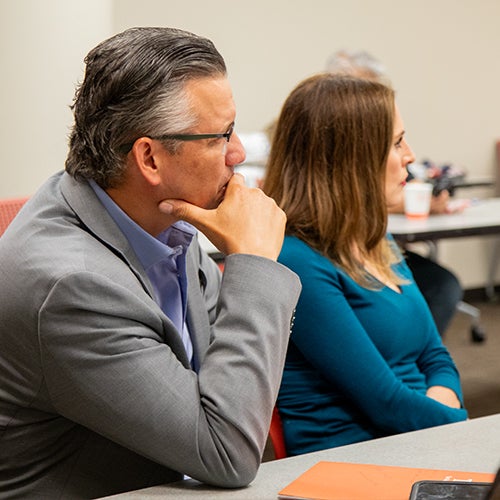 Graduate Students
Future graduate students must first apply to the Graduate School at UT Austin to be considered as an applicant to a College of Education graduate program. Many of the College of Education's graduate programs also have additional admission requirements and pre-requisites, and we encourage all prospective students to refer to their respective program for a complete list of application checklist materials.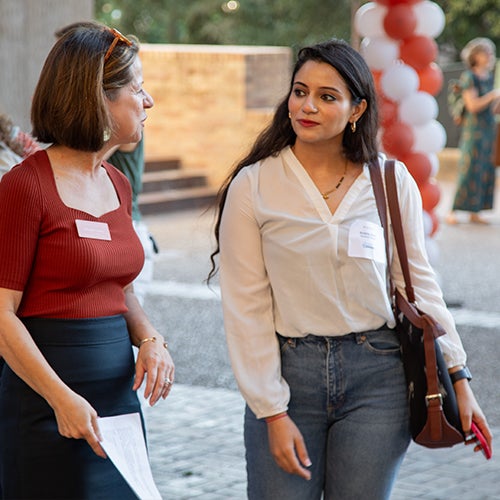 Transfer Students
The information below provides details for undergraduate students interested in transferring within or into The University of Texas at Austin.
If you are currently attending another college or university, follow the transfer admission procedures provided by the Office of Admissions.
If you are transferring from another institution in Texas, you can learn how your credits will transfer using the automated transfer equivalency system. If you are transferring from an out-of-state or an international institution, we will review your credits upon admission to the university.
Learn more about the external transfer process
You are encouraged to attend one of our Prospective Student Information Sessions.
If you are already an undergraduate student in another college at UT Austin who would like to transfer into the College of Education, you must attend an Internal Transfer Session where you will learn more about our programs, GPA requirements and how to apply.
Internal Transfer Information Sessions
---
There are no scheduled sessions. Please check back later.
You also will need to fill out the Internal Transfer Application supported by the Office of Admissions. The application will open for Spring entry from mid-September to December 1 and for Fall entry from mid-January to May 1.
Transfer forms will be processed after grades are verified at the end of each semester.
Future Teachers
Students interested in becoming an elementary or special education teacher are required to have a minimum GPA of 2.5 for the last 60 college credit hours to enter the Professional Development Sequence, our teacher preparation program.
Kinesiology and Health Education
Exercise Science and Health Promotion and Behavioral Science majors are required to have an overall minimum GPA of 2.5. Once admitted, you are required to maintain a 2.5 GPA in your Kinesiology and Health Education courses to remain in your program.
Students interested in Sport Management should transfer to Physical Culture and Sports to have easier access to the four prerequisites required to apply to the Sport Management program. You will apply to Sport Management once you are enrolled in the final prerequisite. Please note: having the minimum required 2.5 GPA needed to apply does not guarantee admission to the major as enrollment is limited.
Get in Touch
Fill out the Request Information form to learn more about the opportunities that await you as a student at the College of Education.
Attend an Event
Register for an information session to learn more about the College of Education, our programs and life on the Forty Acres.
Apply Now
Ready to become a Longhorn? Start your ApplyTexas application today to take the next steps towards your future.