Visit the College
Come and experience the College of Education firsthand. Whether you're here for an admissions tour, a parent or family member visiting your student, going on a campus stroll or catching up with a friend or colleague, we welcome you to see all that our college has to offer.
Getting to the College
The College of Education is housed in the George I. Sánchez Building (SZB) located at the intersection of Martin Luther King Blvd. and Speedway in Austin, Texas. SZB is located across from Beauford H. Jester Center (JES) and in back of the Perry-Castañeda Library (PCL).
The Department of Kinesiology and Health Education has its main offices in L. Theo Bellmont Hall which is located in front of the Texas Memorial Stadium (STD) on San Jacinto facing 21st St.
Additional offices are located in Gregory Gymnasium located on the corner of 21st St. and Speedway.
Sánchez Building (SZB)
Weekdays:
Public access 6 a.m. – 7 p.m.
Badge access only 7 p.m. – 6 a.m.
Weekends:
24-hour badge access only.
Bellmont Hall (BEL)
Public access M-F 5:45 a.m. – 7 p.m.
Badge access required all other times.
Both closed on holidays.
Brazos Parking Garage
210 E. MLK Blvd.
Phone: (512) 471-6126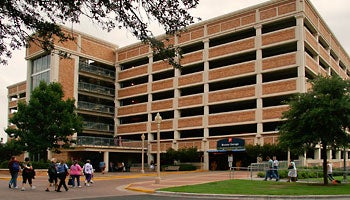 Schedule a Tour
A campus visit gives you the opportunity to learn more about the College of Education and how we can help you develop the skills you need to inspire and lead in education and health professions.
Undergraduate students interested in a tour should contact the Admissions Center.
Graduate students should contact their department's graduate coordinator.
UT Campus
Come visit our beautiful campus in the heart of downtown Austin and dive right into Longhorn life. Designed to enhance the experience of not just current students, faculty and staff but also community members and visitors from around the world, our many campus destinations will educate, delight and amaze.