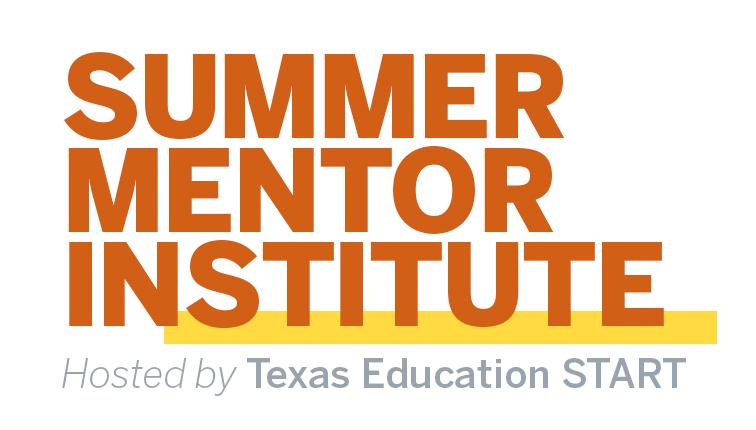 Texas Education START: Summer Mentor Institute
Date
May 31, 2023 - Jun 01, 2023
Location
San Jacinto Residence Hall
Description
Texas Education START is hosting a 2-day professional learning conference for early career teacher mentors in Austin ISD. Featuring keynote presentations and interactive breakout sessions, participants will gain valuable strategies to enhance their teaching skills and make a positive impact on the novice teachers they mentor.
The conference will connect teachers, mentors, campus and district instructional staff and educational leadership to discuss:
Increasing new teacher self-efficacy and support in areas of social-emotional wellness, literacy and building classroom community.
Fostering communication and collaboration between teachers, administration, district and students.
Creating new opportunities for fellow educators to share ideas and build professional relationships.
This professional learning opportunity will meet the mentor PD requirement for Austin ISD mentors for the 2023-2024 school year. Additionally, participants will earn continuing professional education (CPE) and PLED hours. Join us to be a part of a dynamic learning community dedicated to empowering early career teachers.
Breakfast and lunch will be provided and parking is free for all attendees. Registration is required.
---
Wednesday, May 31

7:45-8:30 | Registration and Breakfast
8:30-9:30 | Opening and Keynote
9:45-11:15 | Concurrent Session 1
11:15-12:45 | Lunch
1:00-2:30 | Concurrent Session 2
2:45-4:15 | Concurrent Session 3
4:30-6:00 | Happy Hour
Thursday, June 1
7:45-8:30 | Registration and Breakfast
8:30-9:30 | Keynote
9:45-11:15 | Concurrent Session 4
11:15-12:45 | Lunch
1:00-2:30 | Concurrent Session 5
2:45-3:45 | Panel Discussion
---