Brian Stockus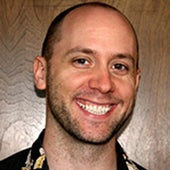 Title
Senior Instructional Designer, Time to Know Austin, Texas
Education
M.A. in Curriculum and Instruction, 2006
Biography
My master's program only lasted two years, but it was a phenomenal learning experience. The class sizes were small which meant a lot of attention from the professors. Also, the classes were often composed of the same students who started the program with me, so I was able to get to know them as we worked on projects or debated research articles. I made several invaluable friendships that have lasted to this day.
One of the best experiences I had while at UT was getting an internship with Enspire Learning, a local e-learning company. I was hired for the position because of connections the Instructional Technology program maintains in the Austin area. Enspire asked our program for volunteers to do usability testing for a new course they were developing. I jumped at the opportunity, followed up with Enspire, and landed the internship. Having taught elementary school, it was an exciting challenge for me to design e-learning courses aimed at adult learners in topics such as finance and banking.
Why UT?
I graduated from UT in 2001 with my bachelor's degree in Applied Learning and Development. After four years in the classroom, I knew I wanted to earn my master's degree so that I could grow professionally as an educator. I'm a Longhorn through and through, so there was no question whether I'd be going back to UT.
In the summer of 2003, I made an appointment with Dr. Min Liu. She took the time to talk with me about the different degree programs available in the Curriculum and Instruction department. I'm sure she's a little biased since she is a professor in the Instructional Technology program, but it turned out to be the best fit for me. I could tell that technology is taking on a larger and larger role in the classroom, and I want to be at the forefront of that change.
Life After UT
After I graduated with my master's degree in 2006, I returned to teaching in public schools, excited to apply everything I had learned about designing great instruction. Thanks to connections I made at UT, I also worked part-time writing e-learning courses for another local company, Alchemy Systems. After two years back in the classroom, I was offered a job at Time To Know, a digital curriculum company based out of Tel Aviv, Israel. For the past three years, I've been leading a team of content developers designing digital math lessons for elementary school students.
Advice for Students
Before I started at UT in 2004, I knew I wanted to grow professionally, but I had no idea my experiences at UT would lead me to such fun, challenging, and rewarding positions. If you're thinking of going back to school, I recommend you do what I did. Email some professors to get a feel for what you might learn in their program. Ask about the research they do and the types of jobs their graduates have taken. Going back to school is a commitment of time and money, but if you take the time to choose wisely it is definitely worth it.