Vanessa Svihla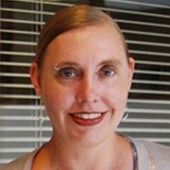 Title
Associate Professor of Learning Sciences, University of New Mexico
Education
Ph.D. in Science Education, 2009
Biography
I came to UT Austin as a geologist just out of the Peace Corps. After earning my masters and beginning a PhD in the Jackson School, I found that the questions keeping me up at night were no longer about mountain building; I wanted to understand how people learn in STEM fields. I decided to pursue a PhD in geoscience education, but quickly found myself working with learning scientists in STEM Education, and wound up studying a biomedical engineering capstone design course! As a designer myself, I became fascinated with this inherently project-based, authentic approach to preparing learners for the real world.
Over the course of my degree, I came to identify as a learning scientist, and went on to chair the AERA special interest group on Learning Sciences.
While at UT, I took advantage of numerous opportunities, including teaching courses in UTeach, spending a semester at another institution to forge new connections, working on various research projects, and enjoying life in Austin.
Why UT?
I originally came to UT because of its reputation in geology. When I decided to change career paths, I was thrilled discover UT had an excellent program in STEM Education. The experiences I had at UT prepared me for a tenure track position by providing opportunities to learn to manage teaching and research responsibilities as a graduate student. I was able to begin carving out my research program as a student because I had more autonomy in terms of research direction than many of my colleagues at other universities.
Life After UT
After graduating in 2009, I spent two years as a postdoc at UC Berkeley while simultaneously continuing to work with University of Washington's Learning in Informal and Formal Environments(LIFE) Center. In 2011, I began a tenure track job in teacher education at the University of New Mexico in Albuquerque.
As soon as I arrived at UNM, I set up my research lab—the Interaction and Disciplinary Design in Educational Activity (IDDEA) Lab and developed interdisciplinary relationships on campus. This lead to a USDA-funded grant with colleagues in Nutrition and Architecture to design a case-based learning system, and an NSF-funded Research Experiences for Teachers grant with the School of Engineering.
As a learning scientist, I was excited to find a job announcement last year at UNM, in our Organization, Information & Learning Sciences program, and moved to this new position in the summer of 2014. My work now focuses on the role that problem framing—as opposed to problem solving—plays in learning and innovation, and how interdisciplinary settings can be an important context to support diversity. Some of this research is funded through a NAE/Spencer Postdoctoral Fellowship.
Advice for Students
Graduate school is not about the coursework—but take as many research methods courses as you can, including any data science and data management classes or short courses you can handle. Go to conferences. Visit other universities. Help out with grants. Let yourself fall in with a good research crowd, even if you have to first be a volunteer. What starts at UT may change the world, but don't forget to let the world change you.