Fall 2020 Cohort
Rodrigo Aguayo
Year: First Year
Pronouns: He/Him/His/Él
Degrees: 
B.A., Psychology, Texas State University
M.Ed., Educational Leadership & Policy, The University of Texas at Austin
Bio: Rodrigo is the program coordinator for Project MALES (Mentoring to Achieve Latino Educational Success), a research-based mentoring program focused on the educational outcomes for boys and young men of color within the Division of Diversity of Community Engagement at UT-Austin. His research interests include the impact of mentoring on Latinx males within the P-20 educational pipeline. When asked why he chose UT Austin for graduate school, Rodrigo said, "As a Texas Ex, I have chosen PHEL and UT knowing that the support from the faculty and staff here is exceptional."
Twitter Handle: @rodrigoaguayo13
---
Jackie Pedota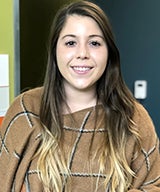 Year: First Year
Pronouns: She/Her/Hers/Ella
Degrees: 
B.S., Wildlife Ecology & Conservation, University of Florida
M.Ed., Educational Leadership & Policy, The University of Texas at Austin
Bio: As Jackie worked on her master's at UT, she realized that within the department she would have the freedom and support to pursue the interdisciplinary work that she was passionate about. Her work focuses on public-facing scholarship through oral history and community-based research. As a daughter of Cuban immigrants, her research agenda broadly focuses on equity and access for Latino/a/x students at Predominantly White Institutions (PWI). Jackie is specifically interested in university counterspaces, like campus culture centers and ethnic studies departments, and how they support Latino/a/x student identity development at PWIs.
---
Tepera R. Holman
Year: First Year
Pronouns: He/Him/His
Degrees: 
B.A., Government & Black Studies, The University of Texas at Austin
M.Ed., Educational Leadership & Policy, The University of Texas at Austin
Bio: Tepera's research interests include understanding the experiences of Black college students from rural areas. In particular, he is interested in knowing how rurality influences their identity development at large, research-intensive, and historically white institutions. In addition to being a doctoral student, Tepera serves as director of the Texas Interdisciplinary Plan (TIP) Scholars program, a student success and academic learning community in the College of Natural Sciences. He earned a bachelor's degree in government and Black studies and a master's degree (M.Ed.) in College and University Student Personnel Administration from UT Austin. Throughout his career, he has supported college students, especially first-generation and historically excluded college students, through advising, programming, and leadership development.
Twitter Handle: @holmantr
---
Reyna M. Flores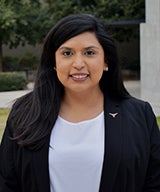 Year: First Year
Pronouns: She/Her/Hers/Ella
Degrees:
B.A., Psychology, St. Edwards University
M.Ed., Student Affairs in Higher Education, Texas State University
Bio: Reyna is a first-generation Latina and daughter of migrant farmworkers who grew up in the Rio Grande Valley. As a College Assistance Migrant Program (CAMP) scholar, Reyna gained interest in educational inequities that led her to pursue a career in higher education. With ten years of full-time work experience, she has served minoritized student populations throughout the educational pipeline. Reyna is the president of the St. Edward's University CAMP Alumni Association and Staff Co-Chair Elect of the Hispanic Faculty and Staff Association at The University of Texas at Austin. Her research interests include migrant students, Latinx students, and student success.
Twitter Handle: @ReynaMFlores
---
Diana Cervantes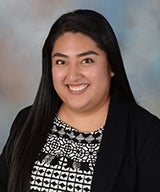 Year: First Year
Pronouns: She/Her/Hers/Ella
Degrees:
B.A., Crime & Law, University of Oregon
M.A., Higher and Postsecondary Education, Teachers College, Columbia University
Bio: Diana works as a graduate research assistant for Project MALES and the Department of Educational Leadership and Policy. She is a proud Oregonian, a Gates Millennium Scholarship recipient, and a product of college success programs that helped her navigate Predominantly White Institutions of higher education as a first-generation college student. Prior to becoming a Longhorn, Diana worked for several federal agencies and the non-profit sector in Washington DC. Those experiences inspired her academic research interests: Latinx/o/a community college students, workforce development, and student success in higher education.
Twitter Handle: @CervantesDiana_
---
Anthony Fowlkes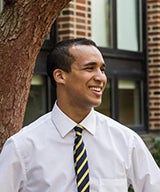 Year: First Year
Pronouns: He/Him/His
Degrees:
B.A., Economics, University of Michigan-Ann Arbor
B.A., Asian Studies, University of Michigan-Ann Arbor
M.A., M.P.P., Higher Education, University of Michigan-Ann Arbor
Bio: Anthony is a native Michigander and brings his experiences as a queer, mixed/Black, first-gen student to UT. His research focuses on working students and the impacts of working while learning on postgraduate outcomes for undergraduates. This program drew his interest as a community that interrogates oppressive systems in higher education. Anthony also works full-time in the Moody College of Communication as a Senior Data Analyst. In this role, he assists college leadership in bettering the student, staff, and faculty experience through data collection and analysis.
Twitter Handle: @fowlkes_anthony
---
Gabriel Rodríguez Lemus, Jr.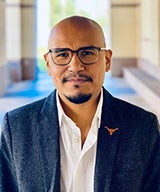 Year: First Year
Pronouns: He/Him/His/Él
Degrees:
B.A., Sociology, Concentration in Community Change, San José State University
M.S., Higher Education & Student Affairs, Indiana University Bloomington
Bio: Gabriel is a first-generation Queer XicanX Ph.D. student living with a (dis)ability in the Program in Higher Education Leadership (PHEL) who hails from Fresno, California. Gabriel's work engages, complicates, and interrogates the ways LatinX masculinities are understood, specifically for Queer LatinX collegians when navigating academe as it relates to their gender, ethnicity, sexuality, and (dis)ability. Moreover, understanding Queer LatinX collegians theorizations of colonization, diaspora, and migration. His work employs anti-colonial, postcolonial, and critical theories.
Twitter Handle: @grodriguezlemus