Keith M. Sturges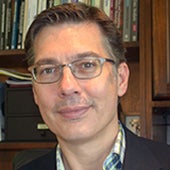 Title
Founder and CEO Indikus Program Evaluation and Planning Nashville, Tenn.
Education
Ph.D. in Curriculum and Instruction, 2011
Biography
Keith's Story
Equipped with a Masters of Applied Anthropology, I had spent nearly 15 years as an evaluator of Title I programs.  In that role, I examined the extent to which programs that had been designed to serve minority and low-income students were having their intended effect.  While a social justice orientation had fit well with my work much of the time, the passage of NCLB created new ethical and methodological challenges to educational reform evaluation.  For instance, it became increasingly difficult to treat teachers and students as partners who could help make sense of and create plans from findings.  Since I did not have a PhD, and was therefore unable to serve as a Principle Investigator, I had limited influence and specific knowledge to shape my thoughts about how the very mechanisms intended to serve students were perpetuating old barriers and creating new ones.  Thus, I set out to identify a respected doctoral degree from a top-notch institution that would help me make sense of new policies' impact on public education and force me to struggle with how I might continue to work in a context that seemed so completely controlled by the interests underlying those policies.
Why UT?
---
The principal reason I chose to apply to the University of Texas' Cultural Studies in Education program was its prominent faculty.  After searching for doctoral programs across the country that would fit my needs, I met with faculty from UT's CSE program.  Unlike faculty at other institutions, they promised to be grounded, accessible, supportive, and demanding.  And, so they were.  I also selected UT because the CSE program requires that some courses be taken outside the department.  I found courses in Anthropology, Policy Studies, Educational Administration, and research methods to be incredibly important and supportive of my CSE work.  And, finally, well, Austin!
Life After UT
After I defended my dissertation, I returned to program evaluation with a greatly refined orientation.  I founded my firm, Indikus Program Evaluation and Planning (www.indikus.com) from guiding principles inspired by the CSE program.  For instance, the CSE program challenged me to explore ways to reframe intensified privatization and its related emphasis on financial investments to better serve the public good.  I love what I do and am constantly challenged as I work with schools, districts and other institutions of public good to reevaluate what is most important.  What I appreciate most about the CSE program is what has stayed with me, in the form of specific lessons, opportunities to conduct high quality research, and the enduring relationships with faculty and fellow students.  I am part of a community of intellectual practitioners who are helping shape public education.
Advice for Students
My advice to CSE students is to accept the intellectual challenges presented to you.  Many of them will be complex and will force you to explore your own beliefs and assumptions in new ways.  At the same time, because the CSE program is flexible, after you've gotten through your first year, meet with people in the discipline to explore career paths.  Doing so will help you identify coursework, research opportunities, and teaching prospects.  Finally, my advice to prospective students: If you are looking for a doctoral program that consists of simple hoops that follow a carefully prescribed sequential progression of steps, this is not the right program for you.  The CSE program demands an acceptance of ambiguity, a readiness to reflect meaningfully, an ability to conduct high quality research, and a willingness to leave the program with a wholly altered outlook.