Incorporating Peer Feedback and Exemplar Analysis
by Kristen Mosley
The past two posts detailed the foundations for instructor and student feedback literacy frameworks. Developing instructor and student feedback literacy is a critical first step to successfully implementing this type of learning in your course, but this week we're diving into how these frameworks can come to life in your classroom.
Incorporating Peer Feedback
When students have an opportunity to be exposed to peers' work, they gain skills in their own reflective capacity. Additionally, students must engage in higher-order thinking when they provide peer feedback to others, as it requires them to analyze areas for improvement, diagnose problems, and suggest specific ways for moving forward.1 Two key starting points can seamlessly support the use of peer feedback in your course: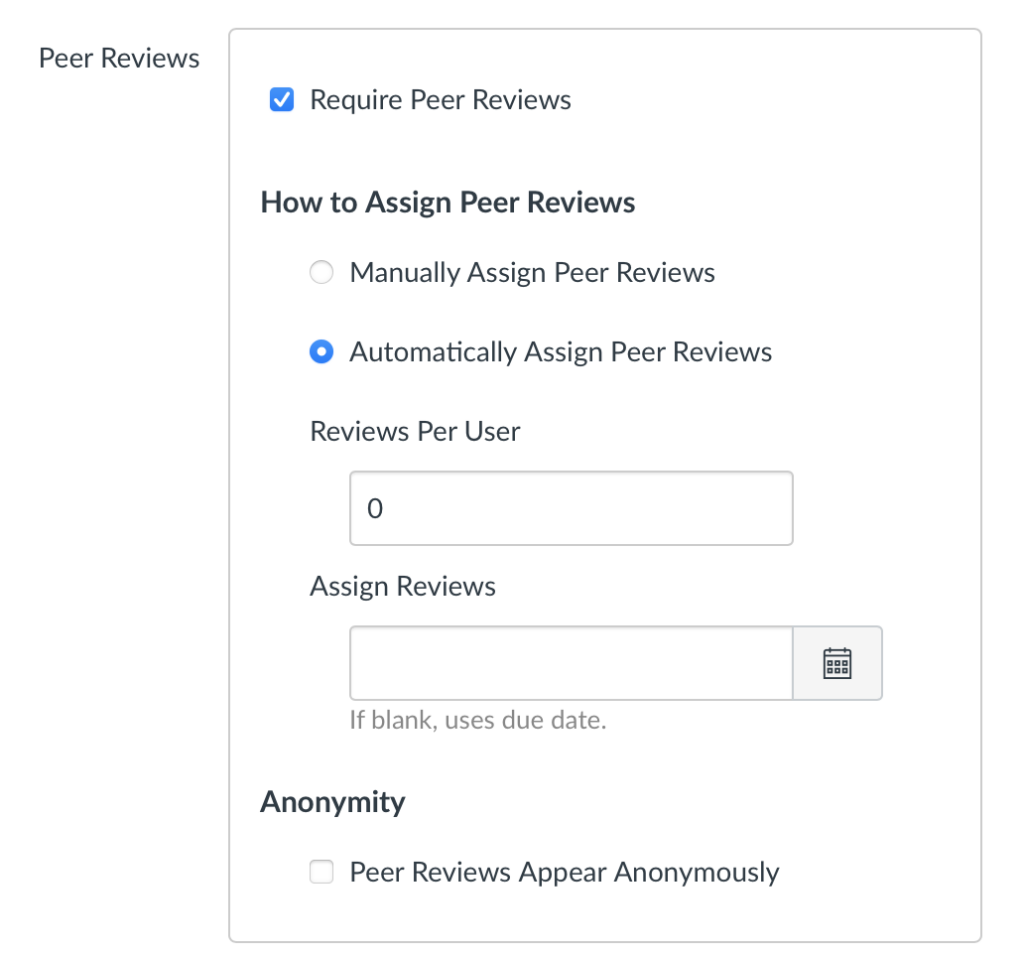 1. Consider using Canvas' built-in peer review feature. When creating a new assignment, there is an option to check the box labeled, "Require Peer Reviews", with which you can assign peer reviews for assignments. Students will then be notified of their review partner(s), and once their peer's submission to be reviewed has been uploaded, the peer reviewer can access the submission and provide feedback directly on Canvas.
2. Recall the importance of closing the feedback loop. A key barrier to effective feedback implementation is time. Careful planning will enable students to actively engage in the feedback process as well as apply the learning and submit a new, post-feedback product. The recommendation for this sequence is:
Students produce and submit a draft assignment on Canvas,
Students provide feedback to their partner via the Canvas "Require Peer Reviews" feature, and
Students apply the feedback received and resubmit a final version of the same assignment.
Effectively, this sequence provides an immediate call for action and sense of closure, which further develops students' competency in giving, receiving, and applying feedback.
Incorporating Exemplar Analysis
Just as peer feedback exposes students to others' work – thus supporting their ability to accurately reflect on their own work – the use of exemplars can also support students in understanding how their own work aligns with what is deemed "exemplary". Exemplars are intentionally selected pieces of student work used to demonstrate success on a given assignment,2 and the use of exemplars has been shown to reduce student assessment anxiety.3 Importantly, exemplar analysis can function similarly to peer feedback in that it can show, rather than tell, students what high-quality work looks like.
The best practice here is to incorporate more than one exemplar to avoid the misconception that an exemplar is merely a model that students should replicate4—this is not the intent of exemplars! Instead, exemplars should be introduced as samples of quality work, and students should be given opportunities to learn why these workpieces demonstrate quality and what evidence-based judgments can support such a classification. Engaging in this process, then, provides students insight into how the teacher assesses quality thereby reducing the distance between teacher and student perceptions of exemplary work.
Canvas can also be utilized for engaging in exemplar analysis. For example, a discussion thread could be created in which the exemplar(s) are posted in the prompt and students are tasked with making judgments, supported by evidence, on the quality of the exemplar(s) provided. The instructor could comment on students' discussion posts to further the conversation or use the discussion thread as a launching pad for in-class discussion. Regardless of how Canvas discussion is used, students should have ample opportunity to share their judgments of the exemplars, hear the perspectives of other students and the instructor, and dialogue with others to further refine their understanding.
Through the incorporation of peer feedback and exemplar analysis, students can refine their reflective and analytical capacities such that they're able to more intentionally engage in the self- and other-oriented feedback process that is sure to characterize their academic and professional lives.
1. Carless, D. & Boud, D. (2018). The development of student feedback literacy: Enabling uptake of feedback. Assessment & Evaluation in Higher Education, 43(8), 1315-1325.
2. Carless, D. & Chan, K. K. H. (2017). Managing dialogic use of exemplars. Assessment & Evaluation in Higher Education, 42(6), 930–941.
3. Yucel, R., Bird, F., Young, J., & Blanksby, T. (2014). The road to self-assessment: Exemplar making before peer review develops first-year students' capacity to judge the quality of a scientific report. Assessment & Evaluation in Higher Education, 39(8), 971-986.
4. Sadler. (1989). Formative assessment and the design of instructional systems. Instructional Science, 18(2), 119-144.
Contact Us
Email or call us for any questions you may have or to make an appointment with an OI2 member.
oi2@utexas.edu
512-232-2189
SZB 2.318
Director: Lucas Horton
512-232-4199
@oi2ut on Twitter