Sherry Field
Associate Dean for Faculty Development and Educator Preparation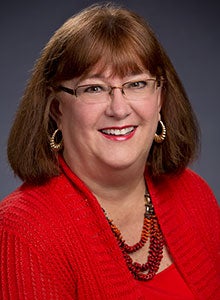 Sherry Field brings years of experience to her current role as associate dean for faculty and educator preparation. In addition to playing a major role in faculty affairs, especially related to faculty mentorship, faculty advancement, personnel matters, onboarding, instructional innovation, and leadership development, Dr. Field works closely on faculty hiring and promotion and tenure with Dr. Maloch. Dr. Field also leads our educator preparation, certification processes, and services. 
Field's career encompasses experience as a university researcher and professor, as well as a public school classroom teacher and administrator. She served as a faculty member at the University of Colorado-Denver, University of Georgia, and, in the College of Education at The University of Texas at Austin from 2001-2012. From 2006-2012, she served as associate dean for teacher education, student affairs, and administration. She was dean of the College of Education at Arkansas Tech University from 2012 until her return to UT in 2015. Most recently, she served as interim dean of the College of Education, from January 1 – December 31, 2018.
Field earned her bachelor's degree in elementary education from Texas Tech University, a master's degree in education and administration from Stephen F. Austin University, and her doctorate in curriculum and instruction from the University of Texas.
A renowned scholar and leader in social studies education, Field has received the Dr. Irving Morrisett Award for Excellence in Social Science Education from the Social Science Education Consortium, the Jean Dresden Grambs Career Research Award from the National Council for the Social Studies, the Dr. Truman L. Kelley Award for Scholarship Excellence from Kappa Delta Pi International and the Glickman Fellow Award at the University of Georgia.
Her international work includes presentations at educational conferences all over the world, the keynote at JERASS (Japan Educational Research Association for the Social Studies), Tokyo, Japan and the inaugural lecture at the Teaching and Learning Center of Hiroshima University, Hiroshima, Japan. She has been a Faculty Fellow with the Warren Fellowship for Preservice Teachers at the Holocaust Museum Houston since its inception.
Field is the co-author and editor of numerous publications, including the books Exemplary Elementary Social Studies: Case Studies in Practice, They Led by Teaching, Explorations in Curriculum History, and Real-World Investigations for Social Studies: Inquiries for Middle and High School. Her areas of professional focus encompass social studies teaching and learning, teacher education, and curriculum history.
Field served as editor of Social Studies and the Young Learner from 1996 – 2006. She was chair of the College and University Faculty Association Executive Board of the National Council for the Social Studies, chair of the NCSS Larry Metcalf Distinguished Dissertation Award Committee and president of the Society for the Study of Curriculum History.
---
Contact Us
Mailing Address
College of Education
1912 Speedway, Stop D5000
Austin, Texas 78712
View Map