Alexandra Loukas
Associate Dean for Research and Graduate Studies
Barbie M. and Gary L. Coleman Professor in Education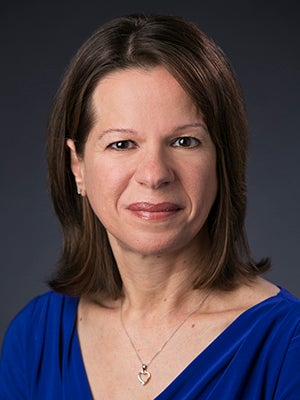 As Associate Dean for Research and Graduate Studies, Loukas is responsible for leading initiatives to support College of Education research and graduate students. She directs the college's Office of Educational Research Support (OERS), including the SMARTER statistics consulting group and collaborates closely with the College of Education Research Administration group that provides administrative grant support to faculty. She serves as the Dean's Office liaison with the college's research centers.
Loukas joined The University of Texas at Austin faculty in 1999 as an assistant professor in the Health Behavior and Health Education program within the Department of Kinesiology and Health Education, where she teaches classes on child and adolescent health, risk and resilience, and substance use and abuse. Loukas served as the program director of Health Behavior and Health Education from 2006 to 2019, and she became the inaugural recipient of the Barbie M. and Gary L. Coleman Professorship in Education in 2015. Loukas received the Department of Kinesiology and Health Education Teaching Award in 2016 and the College of Education Dean's Distinguished Faculty Award in 2018.
Loukas' research focuses on adolescent and young adult health behaviors, with a particular emphasis on tobacco use. Loukas has been principal investigator on grants and contracts funded by the National Institutes of Health/National Cancer Institute, the Cancer Prevention Research Institute of Texas, and the Texas Department of State Health Services. She is principal investigator of Project M-PACT (Marketing & Promotions across Colleges in Texas) and co-investigator on Project TATAMS (Texas Adolescent Tobacco and Marketing Study), funded by the National Cancer Institute and the Food and Drug Administration. M-PACT and TATAMS are rapid-response surveillance projects that have been following large cohorts of youth (TATAMS) and young adults (M-PACT) in the four largest Texas metropolitan areas to examine changes in use of cigarette and non-cigarette products, such as e-cigarettes, and the marketing of these products to young people. 
Loukas has actively served the college, university, and her profession. At the national level, Loukas has been chair of the Adolescent Network within the Society for Research on Nicotine and Tobacco, she serves on the editorial boards of the Journal of Youth and Adolescence, Adolescent Research Review, Educational Research Review, and Tobacco Regulatory Science, and she has served on grant review committees at the National Institutes of Health. At the university level, Loukas has served on the Faculty Council, Graduate Assembly, Institutional Review Board, the Graduate Education Task Force, and she was chair of the Research Policy Committee and co-chair of the Responsibilities, Rights, and Welfare of Graduate Student Academic Employees Committee. At the college level, Loukas has served on the Promotion and Tenure Committee, the Research Committee, and she co-led the College of Education's grant writing boot camp.
Loukas earned a bachelor's degree in psychology from the University of Windsor in 1992. She earned master's and doctoral degrees in developmental psychology from Michigan State University in 1995 and 1997, respectively. From 1997-1999, Loukas completed a postdoctoral fellowship at the Program for Prevention Research at Arizona State University.
---
Contact Us
Mailing Address
College of Education
1912 Speedway, Stop D5000
Austin, Texas 78712
View Map