Ian Tuski
Chief Development Officer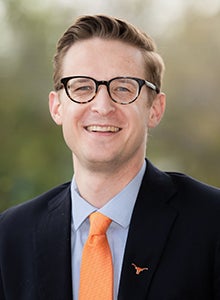 Ian Tuski serves as Chief Development Officer for The University of Texas at Austin College of Education. In his role, he leads a team of development professionals who are responsible for working with donors, foundations and corporate partners to advance the signature impact areas of the College. The development team is focused on principal and major gifts fundraising, annual giving, stewardship, endowment compliance and engaging the College's Advisory Council and alumni community.
Prior to his arrival at the College of Education, Ian served as Director of Principal Gifts at UT Austin, raising funds for campus wide student success initiatives and the Division of Diversity and Community Engagement (DDCE). Ian's focus was and still is, on advancing the student experience through the lens of equity and leveling the playing field for students from underserved backgrounds to ensure they have access to opportunities that build toward career success. Ian began his fundraising career in the nonprofit sector at Austin Classical Guitar after working as a classical guitarist and music educator.
Ian earned his BFA from the University of Wisconsin-Milwaukee, his master's from Yale and his doctorate from UT Austin.
---
Contact Us
Mailing Address
College of Education
1912 Speedway, Stop D5000
Austin, Texas 78712
View Map