Cohort Profile
Executive Ed.D. in Higher Education Leadership
Summer 2023
Note: The GRE is no longer required by the Executive Ed.D. program.
2023 Testimonials
Sunny R. Hernández, she/her/ella
College Coordinator of High School Programs, St. Philip's College, San Antonio, TX
As a McNair Scholar, I knew I had to continue my education and pursue a doctoral program. However, it was important to me to find the right program. My previous degrees were in Ethnic Studies and Cultural Studies, so it was essential to find a program with a social justice aspect and one that made me feel like I belonged. It has been an incredible experience thus far in relation to belonging; never have I felt more supported in my academic journey than now being part of Cohort 2023 (Bevo's Best). The staff, faculty and my cohort mates have been instrumental in my success, and I could not be happier being a part of this program, especially as I have tried to find my roots in Texas as a California native.
This program was perfect for many reasons. Specifically, the accelerated curriculum (though challenging) speeds up the timeline for me to be able to pursue my wildest dream of becoming an administrator sooner rather than later. Also, the weekend coursework allows me to work full-time, so I can continue working to build my rapport on the college campus, build skills and learn simultaneously. Third, the social justice aspect is my true passion in life. As a first-generation student from an immigrant family, I strive to push students to pursue their passions in education and the workforce.
Nina Means
Director of the Fashion Incubator at Austin Community College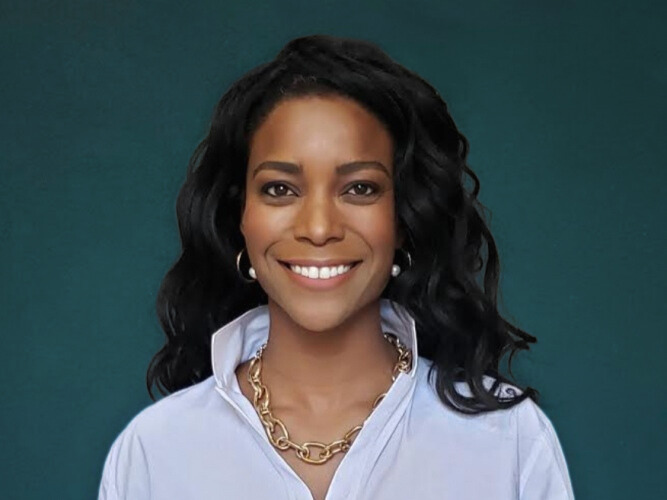 I was approached by a member of the first cohort of the Executive Ed.D. program, Dr. Chris Cervini. He told me all about his experience and what an incredible opportunity it is to advance your career and to anchor the pivot I had made into higher education. My background was previously in public health, and then I later made a change to fashion. Throughout those experiences, education has been all throughout, working in schools of medicine, patient education in clinics, education administration at private universities and now fashion business education at the community college level.
The information I've learned in the program has been immediately relevant to my current role as the Director of the Fashion Incubator at Austin Community College. Understanding systems, drivers and getting advice from professors on navigating and learning the language of higher education has proven invaluable. Each industry has a culture and ethos. This program has been a wonderful way to acclimate into this phase of my career.
I chose the program for its flexibility and the ability to tailor my treatise in the direction I would like to take my career upon completion. I love the cohort model and the connections we have made since starting.
As a parent, I have found the program complements our lifestyle. We've been able to make it work. The best thing I heard was "Mommy, when I go to college…". It is an incredible way to set an example for kids watching everything you do.
G. Christopher Cutkelvin
Director of Alumni Affairs
Huston-Tillotson University
Executive Director
Belizean Education Empowerment Foundation
Growing up in South Central Los Angeles, institutions such as The University of Texas at Austin always seemed like a dream and out of reach from reality. Additionally, being the child of immigrants from Belize, I know that the education I have received is the primary difference in my quality of life. With this knowledge, one of my life goals is to empower the world and its youth, including other Belizeans, through education. When the opportunity presented to attend The University of Texas at Austin's Executive Ed.D. in Higher Education Leadership Program, I knew I had to apply and put my best foot forward. Once I received my acceptance email, my entire family celebrated with me with immense joy.
As a full-time higher education professional, the concept of family integration sometimes goes vacant. Life has its twists and turns, and some things we can plan for and other things we have no control over. Since joining this program, I have received nothing less than support from the faculty and staff. Furthermore, my cohort (Bevo's Best Wrecking Crew) has supported me immensely. I attended my first class session in Accra, Ghana, where I ran a study abroad program. I received so much support from faculty as they met with me on their own time due to the time change and from my cohort, who ensured I did not miss a step during this time. Before meeting anyone in person, I already felt the family vibes from the entire program.
The University of Texas at Austin's Executive Ed.D. in Higher Education Leadership Program is designed to help you succeed. There is nothing easy about earning a doctorate at any level. You must do the work; however, you can choose where and in what environment you will do the work. In our program, you will have an environment to nurture your curiosity, grow your ideas, and celebrate your accomplishments with your ELP family as we strive to change the world through education.