Cohort Profile
Executive Ed.D. in Higher Education Leadership
Summer 2022
Note: The GRE is no longer required by the Executive Ed.D. program.
Testimonials
Casilda (Casi) Clarich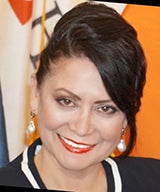 Director, Financial Shared Services and Contracts and Procurement
Office of the Controller
The University of Texas System Administration
Some memories never fade. I remember touring the University of Texas at Austin on a junior high field trip. The iconic image of the UT Tower represented opportunity and world-class education to a sheltered 12-year-old from Corpus Christi, Texas. I knew then this would be my university. Decades later, I am still inspired by Nelson Mandela's words, "Education is the most powerful weapon which you can use to change the world."
The University of Texas at Austin's Executive Ed.D. in Higher Education Leadership Program offers flexibility for busy working professionals. The program centers around the tenets of social justice equity and inclusion, all lifelong passions. The strength and uniqueness of the program are the solid relationships fostered by the cohort (Let's go, Texas Ten!), faculty, staff advisors and mentors. The highly qualified staff and faculty led by Dr. Victor Saenz and Dr. Michael Nava are dedicated to our success and are exemplary in their care and attention to our success and well-being.
Based on past private sector experience with very few Latinx leaders managing corporations and fueled by similar inequities in higher education, my research interests will include addressing the lack of Latinx executive and faculty leadership in higher education institutions. I believe our students must see like-minded individuals teaching classes, initiating programs and inspiring future generations potentially leading to improved retention and graduation rates for our Latinx students.
Pamela Anne Garza, MBA, PMP, she/her(s)/ella
Pamela Anne Garza, MBA, PMP, she/her(s)/ella
Manager of Prospective Student Advising
Relay Graduate School of Education
One of my core values has always been to help my community through the knowledge and skills I have acquired through my education. Being brought up in a family full of educators, I understand the importance and influence a great program, competent leadership and funding can have on the local schools, the community and affiliates. I earned my undergraduate and graduate degrees through UT System schools (the University of Texas-Pan American and the University of Texas-San Antonio) and worked at those same institutions. Hence, it was an easy choice to consider earning my doctorate at the flagship university.
Growing up in the bi-lingual/bi-cultural area of a U.S.-Mexico border city (Edinburg, TX) exposed me to a unique culture and educational experience. My father, a migrant farm worker, was the first person in his family to earn a baccalaureate degree and my mother was the first in her family to earn a graduate degree. I aim to be the first on both sides of my family to earn a doctoral degree. Having worked in higher education for over a decade, I wish to continue working at an administrative level at a university running a department/program, to help influence policy change.
I also chose to attend the Executive Ed.D. program because I wanted a program that is structured to keep me on track to complete my degree. According to the Council of Graduate Schools, only half of all doctoral students complete their program. Being in a full-time doctoral program, as well as working full time and recently developing a disability, it was important to me that the program and its faculty/staff would be able to accommodate me. Thus far, our cohort, the Texas Ten, has felt supported through the first few months and is looking forward to proposing our research topics next year. I am currently interested in the topic of what high-impact university outreach program strategies foster a college-going mindset in Hispanic and Black high school students.
Gregory Hinton
Chief Financial Officer & Vice President of Administrative Services
Monroe Community College, Rochester, NY
Why choose the Executive Ed.D. program at the University of Texas at Austin? Why not attend a program locally and obtain your Ed.D.? I was asked these questions frequently on my travels from New York to Texas to attend the program. The answer is always simple, because the Department of Educational Leadership and Policy (ELP) program lives and breathes social justice and has embedded diversity, equity, inclusion and social justice (DEISJ) as part of its DNA and culture. I am blessed to have Dr. Riddick as my advisor and blessed to have some of the best instructors and guest speakers as part of our curriculum. I could obtain an Ed.D. locally, but it would not have the same level of DEISJ and quality of advisors and instructors that are part of the ELP. I don't aspire to reach a certain position or status. I do aspire to be an agent of change and able to better assist others in obtaining their educational goals and objectives, especially minority students. The Executive Ed.D. program helps me put more tools in my toolkit to better assist others and to be a better college administrator to assist colleges in helping minority students and students, in general, meet their educational goals and objectives. What starts at the Executive Ed.D. program at the University of Texas at Austin changes the world.