Teacher Leadership, Mentoring & Professional Development
Master's Program
Designed for current Austin-area teachers, students in the Teacher Leadership, Mentoring, and Professional Development (TLMPD) program work directly with preservice teachers enrolled in the preservice teacher preparation program at The University of Texas who are in a Literacy Specialization cohort. Scholarship support for the first year for each student is available.
The program of study will include a set of required courses in language and literacy studies, teacher leadership, and teacher research. You also will have an opportunity to focus in other areas of our department, including
STEM Education
Social Studies Education
Cultural Studies
Early Childhood Education
Technology
Bilingual/Bicultural Education
English as a Second Language
Program Details
Semester Start: Fall
Deadline to Apply: December 1
GRE Required? No
Location: On Campus
Schedule: Flexible
Length of Program: 24 months, 36 hours 
Develop mentoring and support skills while working with preservice teachers
Prepare for career path that involves mentoring and leadership roles in professional development at the school and district levels.
Develop and continue a relationship with the teacher preparation program at The University of Texas
We are seeking classroom teachers who meet the following criteria:
Have a minimum of three years classroom teaching experience
Are currently teaching grades K through 5 and intend to continue teaching in one of these grades for the 2024-2025 academic year
Are currently teaching within approximately 15 miles of UT Austin at a campus that serves communities with 20% or more English Language Learners
Can host an intern/student teacher during the 2024-2025 school year
Have the support of the school principal to participate in the program
Are committed to developing mentoring skills
Are committed to improving your own classroom practices
Are committed to working with UT's cross-cutting themes and creed
Complete formal application process through Apply Texas by December 1, 2023.
Specify interest in this program by including Teacher Mentoring, Leadership & Professional Development Masters in your application. If you do not you will not be considered for this program.
In addition to the letters of recommendation required by the department, you also are required to have a letter of support from your school principal.
All applications will be considered on a competitive basis. Applicants who meet the basic admission criteria and appear to be strong candidates for this program will be observed and interviewed by at least one of the faculty members.
Total: 36 Credit Hours
Semester 1 (Fall)
EDC 385G Literacy Leadership for Change
Optional second course: 380R Educational Research and Design
Semester 2 (Spring)
EDC 385G Classroom Discourse and Teacher Research
EDC 390 – Children's Literature
Semester 3 (Summer)
EDC 390T: Practice in Reading Difficulties
Optional second course
Year 2
You will design a schedule with the program directors to fulfill the requirements of the degree.
Degree Plan
Basic Course Requirements (3 hours)
EDC 380R Educational Research and Design
Specialization Courses (12 hours)
EDC 385G Literacy Leadership for Change
EDC 385G Classroom Discourse and Teacher Research
EDC 385G Reading Difficulties or EDC 390T Reading Practicum
EDC 390T Children's Literature
Area of Focus (15 hours)
Must be in Curriculum and Instruction (EDC) or courses cross-listed with EDC.
Out-of-Department Courses (6 hours)
Please direct questions to Stephen Flynn, our admissions coordinator.
Assistant Professor
Studies children's literature and researches the home literacy practices of families with young children in under-resourced communities.
Department Chair
Literacy teacher preparation, coaching and mentoring, equity and justice in literacy instruction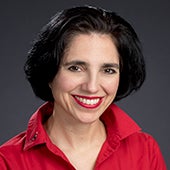 ---
---
Request Information
Tell us a bit about yourself and what programs you are interested in. We'll be in touch with information soon!
---