Athletic Training Program
Department of Kinesiology and Health Education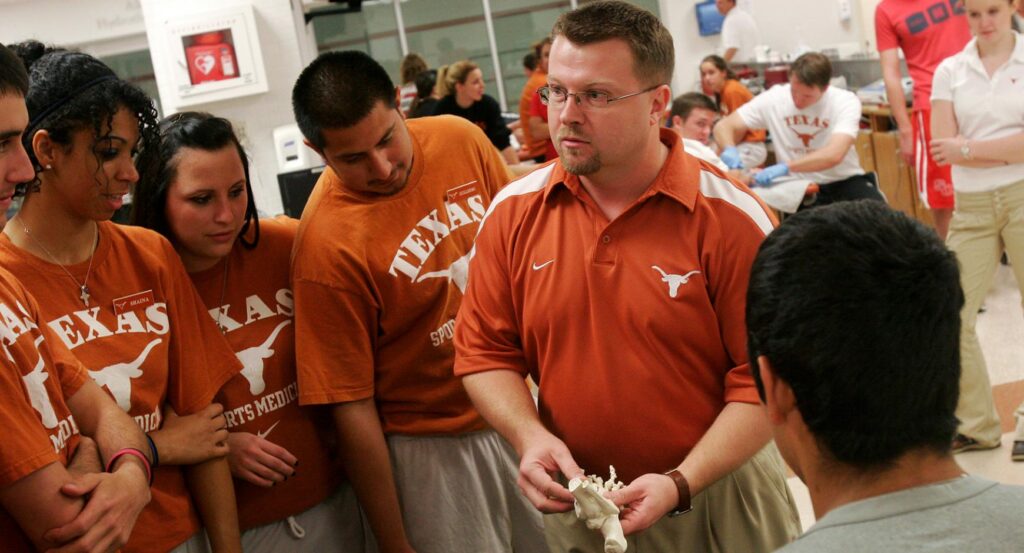 The University of Texas at Austin is currently accredited by the Commission on Accreditation of Athletic Training Education (CAATE) 2001 K Street NW, Third Floor North, Washington, DC 20006 USA. The program has chosen to Voluntarily Withdraw its CAATE Accreditation effective May 2025.
The University of Texas at Austin's Athletic Training Program is no longer admitting students to the program.
The Department of Kinesiology and Health Education offers a Bachelor's of Science (B.S.) in Athletic Training for those interested in pursuing a career as an athletic trainer. The Athletic Training Program is also appropriate for students interested in continuing their education in medicine, sports medicine, physical therapy, physician assistant, or other health care professions. Pursuing additional coursework or another professional degree is necessary to practice in these fields.
Our program involves both classroom and laboratory instruction with hands-on clinical experiences alongside professional athletic trainers and world-class athletes. Students will also work with a variety of patients and other healthcare professionals (physicians, physical therapists, chiropractors, massage therapists, etc.) as they advance through the program.
All students interested in our program must complete specific prerequisites including a year of directed observation during which they observe and learn from athletic trainers. Please note there is a separate application for admission to the Athletic Training Program upon completion of the directed observation year. After graduation, students will be eligible to sit for the exam to become Certified Athletic Trainers (ATCs) and Licensed Athletic Trainers (LATs).
Program Director
Brian Farr, MA, ATC, LAT, CSCS
---
---
---
Contact Information
Department of Kinesiology and Health Education
The University of Texas at Austin
2109 San Jacinto Blvd., Stop D3700
Austin, TX 78712-1415

Main Office: 512-471-1273
Fax: 512-471-8914