Three College of Education students cycle 4,000 miles in the fight against cancer and decide that getting there really is half the fun.
Riding more than 4,000 miles from Austin to Anchorage on a bicycle sounds tough. Add mountains, deserts, unpredictable weather—and a 70-day timetable—and it sounds impossible.
For 77 University of Texas at Austin students, it's not only possible, it's how they're engaging their families, friends, and communities to fight cancer.
Three of the riders are College of Education students: Laura Sorto, Madeline Orr and Bailey Whitley. The women are members of Texas 4000, a group of students so passionate in their fight against cancer that they're willing to endure a grueling bike ride in the dead of summer from June 2 to August 10.
Riders take one of three routes to Alaska: Sierra, Rockies or Ozarks. But in the 18 months before they pedaled off the 40 Acres they had several responsibilities: adequate training and the business needs of getting from here to there.
Meet the Riders
Advertising and Physical Culture and Sports major Sorto is on the Ozarks route. She helped coordinate team donations as a member of the business development committee. "My responsibilities include getting in-kind donations, developing strategies for contacting companies for team donations, and securing food along the route."
Special Education major Orr is riding the Rockies route and is on her team's program committee. "I help curate an interactive program to give to organizations in Austin as well as hosts and people at the stops of the summer ride." The program tells people "what we do in Texas 4000," says Orr, "and more importantly educates and creates discussion around cancer awareness and prevention."
Applied Movement Science major Whitley is the Ozarks travel chair and is responsible for planning and acquiring lodging for each city. "We can get very creative as to where we will stay. We have a waterpark hosting us in Springfield, Illinois, and a fire station hosting us in a small Canadian town," said Whitley.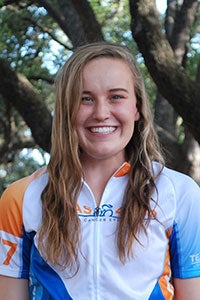 Preparing to Ride
Surprisingly, Sorto, Orr, and Whitley say they weren't avid cyclists before they signed on for the ride to Anchorage.
"Most of us on our team of 77 did not previously cycle," said Orr. "For example, I rode my bike 10 minutes to class and that was about it." But the opportunity to spread awareness about cancer and honor those suffering from cancer fueled the riders.
Starting in spring 2017, these women committed to changing their lifestyles for this cause. They adjusted their eating habits through carbo loading and underwent extensive physical–and sometimes arduous–training that gradually increased in intensity over the three-semester commitment.
"Beginning in the second semester, every Saturday for eight months of the ride year is spent doing whole-team training rides around Austin.  Every rider is required to complete at minimum 2,000 training miles before leaving for Anchorage, and most riders rode two to four times per week to meet their mile deadlines," says Orr.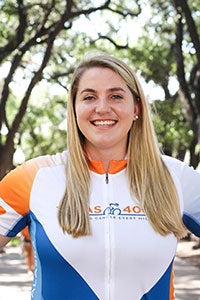 Volunteering and Outreach
To be on the Texas 4000 team, riders are required to give 50 hours of community service and raise $4,500 each. Soto, Orr, and Whitley said they raised a significant portion of their donations through social media. They've also used other fundraising techniques.
If you have seen Team 4000 riders in their jerseys raising money at intersections around Austin, then you've also come across another fundraising tactic. The women say that this was a great way for them to engage the community while fundraising and collecting many names of people to ride for.
Preparing for the Journey
While traveling with only their bike and a bag on their backs, there are only so many items these riders are able to bring along.
"Considering we take everything in a 60-liter duffel bag, there isn't much room for more than our ride clothes, gear, toiletries, and maybe one or two outfits," said Orr. "But I plan to pack instant coffee packets because I'm addicted and I'm not sure what it will be like to wake up before dawn every day without coffee!"
The Three Routes
Members of the Texas 4000 team begin their journey together in Lampasas, Texas  but split off into the Sierra, Rockies, and Ozark routes before reconvening in Whitehorse, Yukon, Canada.
Canada to ride the last eleven days together into Anchorage, Alaska.
"We have rest stops about every 20 miles where we refuel on water, electrolytes, and food. So, if we have a 100-mile day, we will have about four to five rest stops," said the women. At night, the riders stay with host families or camp depending on the route.
The Experience
Not only has this opportunity helped these students spread cancer awareness, it's also inspired them when pursuing their academic studies and future professional careers.
"I applied for Texas 4000 because of the pillar of charity. Not just the monetary charity, but the power of giving a voice to a cause. Because of Texas 4000 and my previous experience with business development, community volunteering, and learning about nonprofits, I've managed to build a bridge between two of my passions–serving the community and pursuing a career in sports," said Sorto.
"In my experience studying Special Education here at UT, I have found the following three things in myself that I hadn't fully felt before," said Orr, "a passion for justice and the idea that every student deserves the best education, a desire to help and give hope to individuals and their families, and a love of learning that I want to share. These three things in many ways resemble Texas 4000's three pillars of hope, knowledge, and charity."
Texas 4000
Established in 2004, this University of Texas program is the longest charitable bicycle ride in the world. Their funding awards grants to organizations with a focus on cancer research or cancer support services. In 2014, the organization raised $4 million and celebrated by donating $1 million to fund cancer research at MD Anderson Cancer Center.