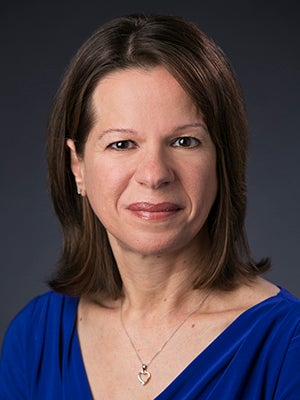 Alexandra Loukas has received the 2018 Dean's Distinguished Faculty Award. This award recognizes a tenured faculty member in the College of Education who has compiled a distinguished record of research, teaching and service. Selection is based on evidence of sustained excellence in the areas of research, teaching, and service to the department, college, university, and discipline. 
Loukas is the Barbie M. and Gary L. Coleman Professor in Education in the Department of Kinesiology and Health Education. Her research focuses on adolescent and young adult problem behavior development, and tobacco use and cessation. She has a special interest in examining how factors from family, school, and culture interact to protect youth from negative health outcomes.
"Not only is the award meant to recognize Dr. Loukas' phenomenal scholarship, but she is also an excellent teacher and mentor who makes time for students and junior faculty," says Interim Dean Sherry Field.
Loukas is one the college's top researchers in terms of funding received to support post-docs and research staff. She is currently funded by the FDA/NIH to examine the use of alternative tobacco products by young adults. She is also funded by the Tobacco Prevention and Control Program at the Texas Department of State Health Services to conduct a variety of community-based program development and evaluation projects.