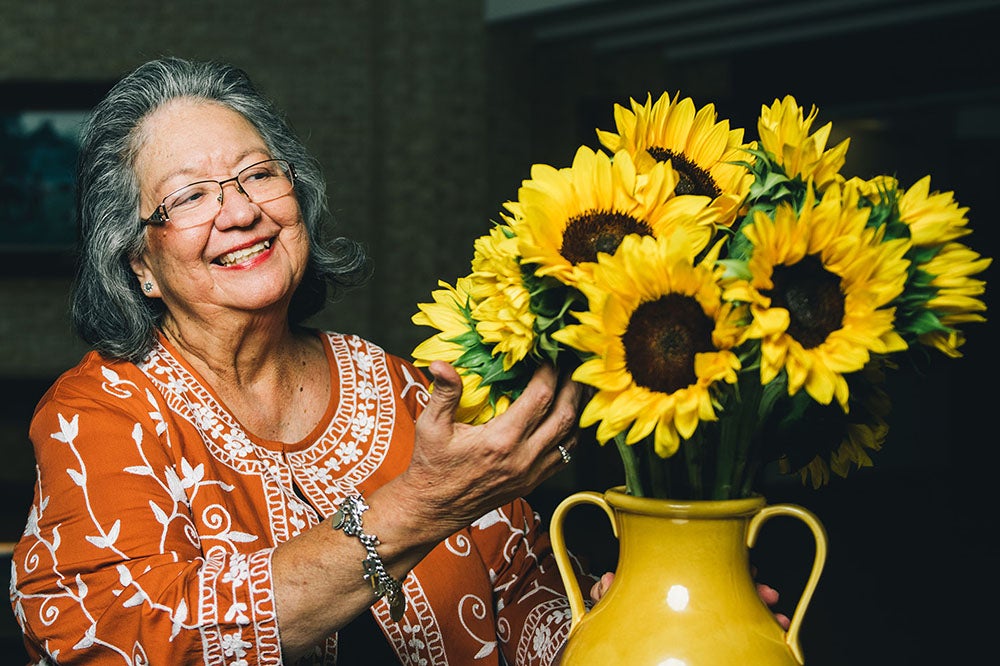 Susana Alemán, who holds bachelor's and master's degrees from the College of Education and a doctor of jurisprudence degree from UT Law, is a loyal and dedicated alumna. She regularly wears three kinds of burnt-orange jewelry and she's long been a mover and shaker in the Texas Exes Austin Chapter, the Texas Exes Scholarship Committee, and the Hispanic Alumni Network.
Alemán worked from 1984 to 2006 as the assistant dean for student affairs at the UT School of Law. Each May for those 22 years, Alemán took to the fields of the Hill Country to gather more than 400 sunflowers for the law school's Sunflower Ceremony, a century-old graduation tradition in which each new alumnus is given a sunflower.
On the morning of July 17, 2012, in a small ceremony at the Etter-Harbin Alumni Center, Alemán made her biggest commitment to UT yet—she formally endowed the new Alemán-Wilson Challenge Grant Scholarship. The scholarship will support Mexican-American students from South Texas who are studying in the College of Education. July 17th bears special significance for Alemán—not only is it her birthday, it's also the 40th anniversary of the day she arrived at UT from the South Texas town of Falfurrias—July 17, 1972.
After earning her undergraduate degree in just two and a half years, Alemán joined Texas Exes as a Life Member, and not long after, she began saving for the scholarship. She says she was inspired to give back in honor of her parents, her sister, and an uncle, all of whom provided vital support toward her own UT education.
"My mother always said, 'where there's a will, there's a way,' Alemán says. "I really believe that. I'm not rich, but it can be done. Everyone can contribute in some way."