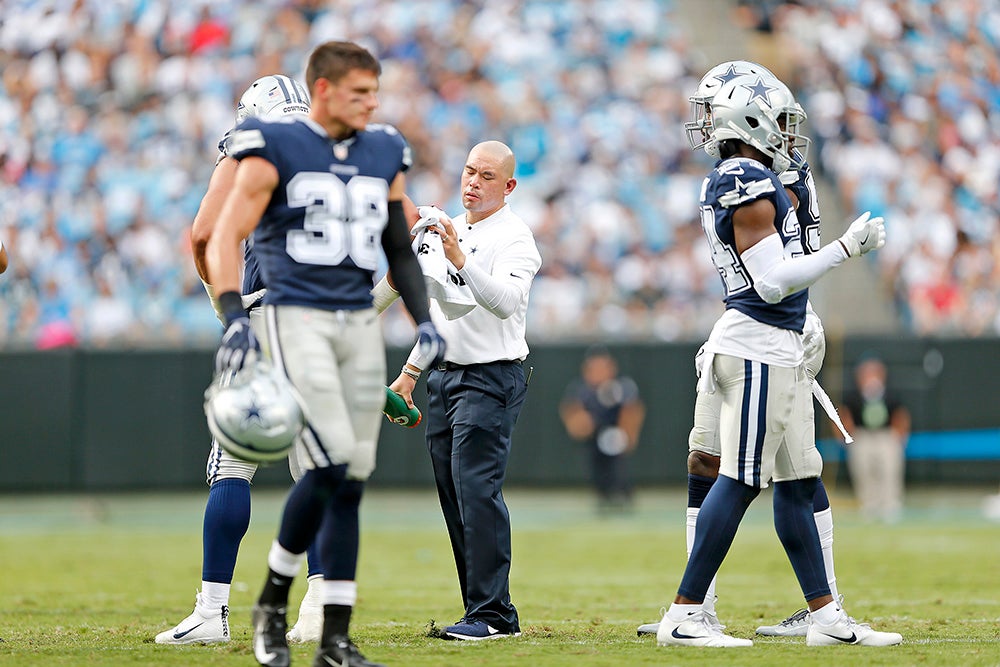 Assistant Athletic Trainer/Physical Therapist
The Dallas Cowboys
The most rewarding aspect of my job is seeing individuals go back to doing what they love to do because you helped them get there. As a PT/ATC, the staff and I cover more than 60 athletes. We do all the rehabs as well as provide coverage for practices and the everyday workings of an NFL football team. I just got lucky, had an interview, and got hired. Luck plays a role in all our lives but it's what you do with that luck that counts the most.

Hanson Yang
FAQ
---
How did your program in the College of Education prepare you?
The Athletic Training (AT) program has allowed me to develop critical communication skills I use every day in my practice. My program director, Brian Farr, and the clinical instructors encouraged us to be able to communicate well among our peers and athletes. The AT program also taught me the importance of hard work. There's a saying, "Hard work beats talent when talent doesn't work hard" and that describes how the AT program helped me.
Are there particular courses or projects during your time at UT that stand out?
That would be the clinical hours that were required as part of our curriculum, which helped mold me into the clinician I am today. Through observation, training, and practice I got first-hand experience in what the field of offered.
What do you like most about your work?
The most rewarding aspect is seeing individuals go back to doing what they love to do because you helped them get there. As a PT/ATC, the staff and I cover more than 60 athletes. We do the rehabs, and cover practices and the everyday workings of an NFL team. Whether it be offseason or getting players ready for the next game, it's rewarding to see individuals perform at a high level and know you were part of that process.
What has been most surprising to you about your career path?
I would be lying if I didn't say working in the NFL, but definitely being hired right after graduation to the Dallas Cowboys. After I graduated from UT, I went to grad school and then to physical therapy school. My plan was to become a sports medicine director. I had no experience working with NFL teams as my peers had, working in summer camps or internships. I just got lucky, had an interview, and got hired. Luck plays a role in all our lives but it's what you do with that luck that counts most.