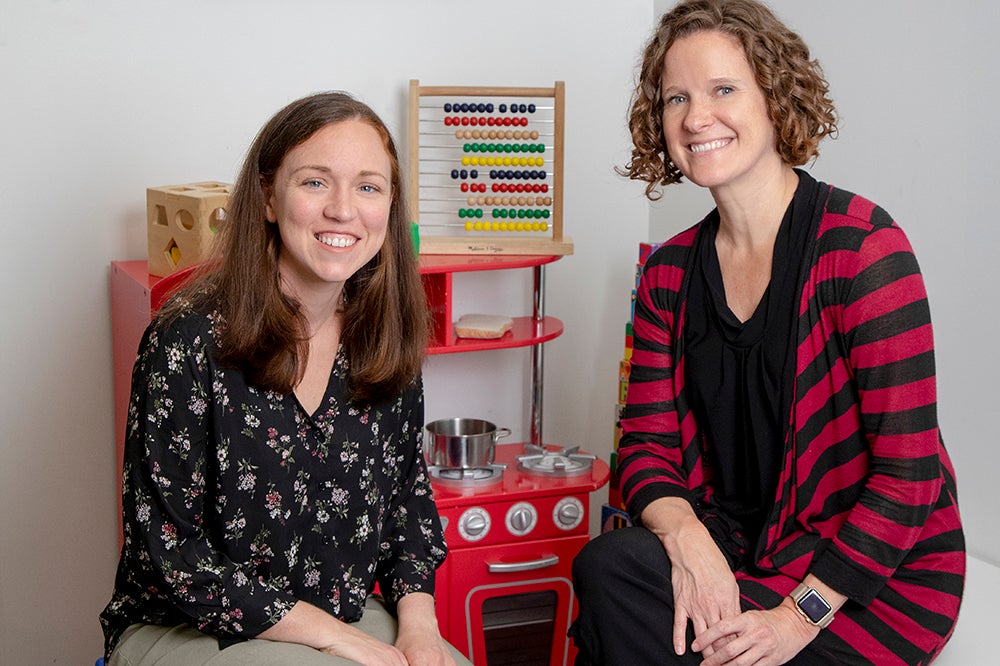 Founders, Building BLOCS
Austin, Texas
I learned early on in graduate school that the professor was not going to teach us "what to do." Instead, they were teaching us how to read the research, evaluate situations and be scientific in our decision making. This approach has helped me stay on top of current research, and modify my practices for clients, families and therapists.

Christie Layton Petersen
FAQ
---
How did your program in the College of Education prepare you?
CP: In the College of Education, I learned how to use research to guide my decision making. I learned how to think critically about what could help a child learn. I learned how important environmental setup is to every part of the day. I learned about cultural and linguistic differences and how they can impact every part of learning. These skills have helped me teach others, analyze problems and work with families of diverse backgrounds.
BW: My program in the College of Education helped prepare me for my career as a behavior analyst. I learned to analyze research in the areas of communication and challenging behavior, which helps me design effective interventions for children.
Are there particular courses or projects during your time at UT that stand out?
CP: I learned early on in graduate school that the professor was not going to teach us "what to do." Instead, they were teaching us how to read the research, evaluate situations, and be scientific in our decision making. Although I really wanted a shiny bag of tricks at the time, in the long run, this approach has helped me stay on top of current research, and modify my practices for clients, families, and therapists.
BW: I took Challenging Behaviors with Mark O'Reilly as an undergraduate elective when I was pursuing a degree in speech and language pathology. That course led me to specialize in children with autism. It opened my eyes to a population that I could have a real impact with. I later enrolled in the College of Education to get a master's degree in special education and to pursue my certification as a behavior analyst.
What do you like most about your work?
CP: I love watching kids learn to communicate! I love watching communication grow from a smile, to point, to gesture, to simple word and then move into longer sentences and stories. I love celebrating the big and small victories that families and children make.
BW: Helping young children learn to communicate and working with new therapists to help them grow in their careers. Many of the children at Building BLOCS are nonverbal when they start. Teaching them to communicate makes such a huge impact on their lives and the lives of their families. Children who can't talk will usually find another way to get their needs met–often through tantrums or other challenging behaviors. Giving them a voice to ask for the things they want is such a powerful tool.
We also hire many UT students to come and work at Building BLOCS while they pursue their master's degrees. I love watching them grow as therapists and make the connections between what they're learning in school and what they see their kids do every day.
What has been most surprising to you about your career path?
CP: I never imagined going into my first special education class that it could lead to something like Building BLOCS. I love my job, the people I work with and all the families and kids.
BW: I had no idea that I would start my own therapy center after graduate school. I love being able to design therapy programs that are most appropriate for each individual child and family. We found the freedom in Building BLOCS to deliver therapy in ways that are both effective and fun for the kids and the therapists. Since we opened we have grown to a staff of around 30 therapists, and we have helped hundreds of families. I'm so thankful that we decided to make this leap.