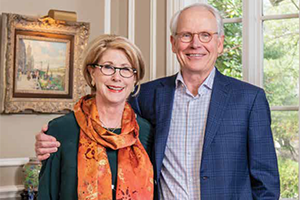 When Susie Baker Adams, B.S. '67, arrived on the Forty Acres in fall 1963, her goal was to become an educator. "I think I always knew that I wanted to teach. I had loved working with kids and a teacher can make such a positive difference in a child's life. Several of my teachers had impacted my life in many ways and I wanted to do the same. Playing a role in helping a child develop and be able to think for themselves, and then to grow into productive adults gave me such a sense of joy," she says.
After graduation, Adams taught for the next seven years at elementary schools in Houston, Austin, Chicago, and then Houston again. When she and John started their family, she stopped teaching to raise their two children, John and Elise. The couple has lived in Dallas for more than 30 years.
The Adams met on campus when she was a freshman in education and he was a sophomore majoring in business. Fifty years later, their Longhorn spirit and passion for philanthropy are inextricably linked.
They want to ensure that current and future undergraduate students have what they need to be successful. They also want to help students with what they don't need—debt.
"New teachers shouldn't graduate with debt. We are providing scholarships so that fewer of our new graduates have debt to begin with," she says.
The couple has established two endowments: the Suzanne B. and John L. Adams Endowed Professorship in Education, currently held by Luis Urrieta, professor in the Department of Curriculum and Instruction; and the Susie and John L. Adams Endowed Scholarship for the College of Education.
"We're so inspired by the students we meet. We want to inspire others to give, too," Susie says. "We think that giving is joyful!"