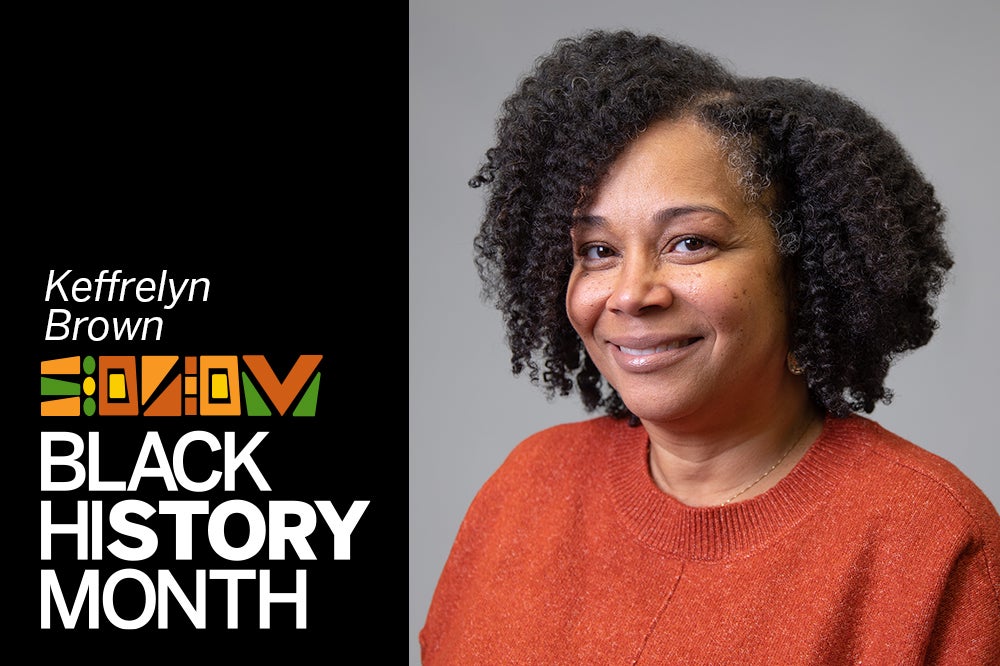 As part of a storytelling series celebrating Black History Month, we welcomed our community members to share their stories to inspire others and encourage open, thought-provoking dialogue. We sat down with Distinguished Teaching Professor Dr. Keffrelyn Brown to share more about her educational journey, research and what this month means to her.
Dr. Brown is the Suzanne B. and John L. Adams Endowed Professor of Education and Distinguished University Teaching Professor of Cultural Studies in Education in the Department of Curriculum and Instruction. She is the co-founder and co-director for the Center for Innovation in Race, Teaching, and Curriculum with Dr. Anthony Brown. She also holds a faculty appointment in the Department of African and African Diaspora Studies, the John L. Warfield Center for African and African American Studies and the Center for Women and Gender Studies.
What does Black History Month mean to you?
Black history month provides an intentional space to honor the knowledge and contributions of Black people that were overlooked or misrepresented in the U.S. and globally. Dr. Carter G. Woodson conceived of a specific time to explore Black history as a corrective to these incorrect and missing histories. As long as our society struggles to include the voices of all its beautifully diverse communities, we will need and benefit from a targeted Black History Month.
Your research examines the relationship between teaching, curriculum, and sociocultural knowledge, specifically around race and racism. Do you feel it has been shaped, changed or influenced by current events, now or when you were younger?
Absolutely. During my undergraduate studies, I became interested in how social context impacts how people understand themselves and others and engage in the world. As an elementary and secondary educator, I found that teachers held different commitments to teaching and curriculum which connected to their identity and past experiences. My interest in understanding how teachers view their role as teachers and make decisions about their teaching and curriculum practices informed my desire to pursue a Ph.D.
What do you feel are some of the biggest challenges you've faced in your academic or professional career, and what are some of your greatest accomplishments to date?
During the earliest part of my career, I encountered some roadblocks in publishing. While this was just part of the process, I worried as my tenure clocked ticked, and I continued to face barriers. Once I decided to work without feeling anxious about results, I began to find success. Soon, I found myself with new publications and inspiration that took my research in a new and novel direction. I have had the opportunity to receive some of the highest research and teaching awards in my field, including the Division K Midcareer and Early Career Research awards from American Educational Research Association (AERA), the UT Regents' Outstanding Teaching Award, and my induction in the UT-Austin Academy of Distinguished Teachers. Yet my greatest accomplishment is raising my two spirited and beautiful children, Kanaan and Kythe, with my partner, Dr. Anthony Brown.
Was there anyone or any program that helped give you confidence or mentorship along the way? If so, tell us a little bit about that experience and what it meant to you.
I have had the opportunity to learn from several excellent teachers and mentors. I learned from one of my earliest professors as an undergraduate student—Dr. Christian Davenport—the power of intentionality and passion for generating knowledge. In my master's program, I realized I could ask critical intellectual questions about social context, power, and schooling. I also learned about the importance of curiosity and asking questions from Dr. Eleanor Duckworth. As a doctoral student, Dr. Carl Grant advised me to run my own (professional) race and Dr. Gloria Ladson-Billings modeled for me to always speak my truth in purpose, with love and integrity to the communities I served, collaborated with, and researched.
In the past few years there have been many movements for change and changes made in the story of Black history. Are there any notable recent changes that you have noticed or really appreciated?
Since President Obama's election and the racial tensions leading from it, and the attention placed on Black people killed by the police, the U.S. has put more attention on understanding how race and racism have impacted our country. I am impressed with the more profound way some have engaged with this topic in the U.S., including educators. In my earlier research with Dr. Anthony Brown, we found that K-12 textbooks fell short in presenting racism as a set of institutional and structural practices rather than solely as the actions of individually racist people. I remain hopeful this trend will continue to help future generations approach racism as a complex social process that requires intentional study and remedy.