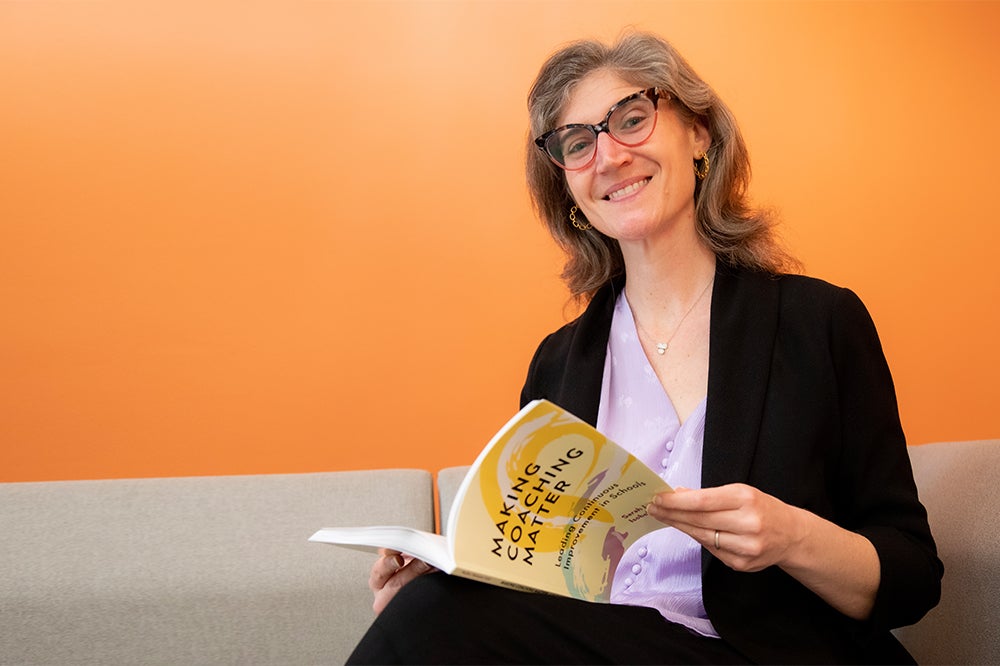 Photo by Gabriel Corti
Sarah Woulfin, associate professor of educational leadership and policy studies in the College of Education at UT Austin has released a new book titled "Making Coaching Matter," co-authored with Isobel Stevenson and Kerry Lord.
The book addresses the common misconceptions about coaching, its goals and how it aligns with reform efforts and offers a new and coherent framing of coaching as a lever for strategic, equitable school improvement. Drawing on their collective experience as both researchers and practitioners, the authors provide a strong theoretical and research-based foundation for their coaching model.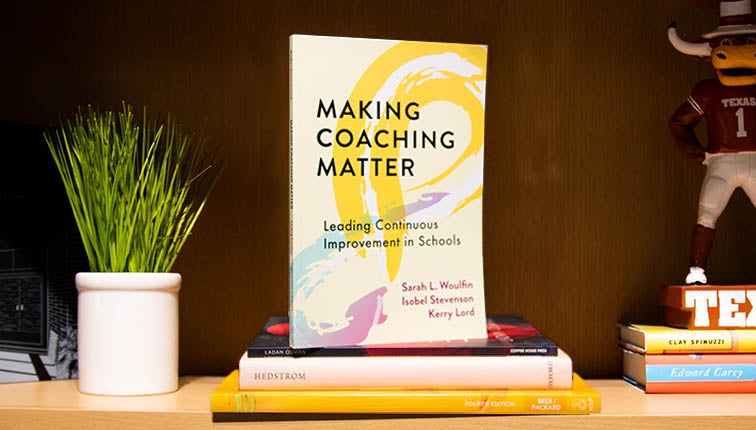 "Writing 'Making Coaching Matter' provided a terrific opportunity to reflect on—and synthesize—my work as a reading coach as well as my scholarship on coaching across multiple states," said Woulfin. "We shine light on how strategic, equity-centered coaching promotes individual growth and organizational change to improve teachers' working conditions and, ultimately, students' learning conditions."

"I'm proud of how we braided together existing evidence and frameworks on coaching, strategic planning, continuous improvement, educational equity and organizational theory to explain how the deep implementation of coaching can advance improvement in a supportive, sustainable manner during the Covid-era," Woulfin continued.
As a former urban public school teacher and reading coach, Woulfin is dedicated to strengthening students' literacy skills to promote equitable outcomes. Using lenses of organizational sociology and qualitative methods, Woulfin examines pressing issues of district and school reform, including how to strengthen instructional coaching and how to develop the capacity of special education teachers.
Dr. Woulfin's first book "Making Teacher Evaluation Work: A Guide for Literacy Teachers and Leaders" was published in 2017, and her work has also been published in American Journal of Education, Educational Administration Quarterly, Educational Evaluation and Policy Analysis, and Teaching and Teacher Education. She is also co-editor of Educational Researcher and serves on the executive committee of the University Council for Educational Administration (UCEA).
"Making Coaching Matter" is a timely and valuable resource for educational leaders who are seeking to understand and harness the power of coaching to improve student outcomes and achieve their overall goals for educational reform. The authors advocate for a coaching model that is tightly aligned with a district's overall strategy and goals and that supports coaches through leadership, logistics and resources.
For media inquiries or interview requests, please contact Amanda Karr at amanda.karr@austin.utexas.edu.