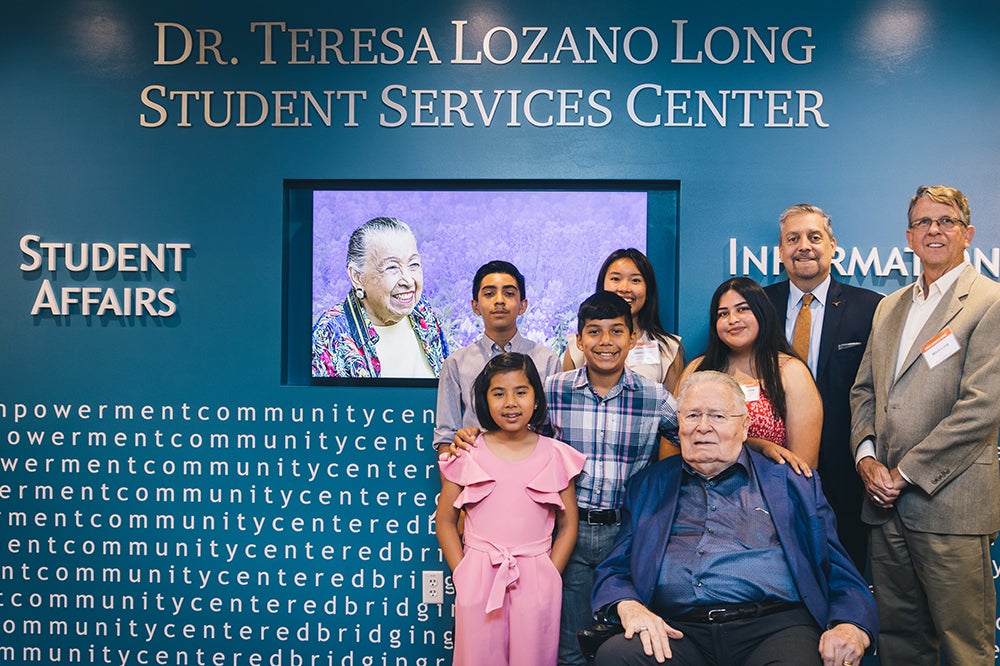 The College of Education at The University of Texas at Austin has received an incredible $3 million gift from distinguished alumnus Joe Long, honoring his beloved wife Dr. Teresa Lozano Long's deep connection to the college and her longstanding commitment to young people and education. Joe's gift will name the college's Student Services Center in Terry's honor and establish the Teresa Lozano Long Endowed Scholarship and the Teresa Lozano Long Endowed Graduate Fellowship.
The Dr. Teresa Lozano Long Student Services Center is a one-stop shop for student support in the College of Education, providing academic advising, mental health counseling, student teaching placement, IT support and a variety of other services that enhance the student experience. As a first-generation college student, I know how vital these supports are and we are honored that the center will bear Terry's name and serve as an enduring symbol of her dedication to young people and the transformative power of education.

Charles R. Martinez, Jr., Dean, College of Education

The Teresa Lozano Long Endowed Scholarship will support exceptional undergraduates from Texas who have demonstrated financial need, show tremendous academic and leadership promise and demonstrate potential for service to their community and a desire to improve the lives of others. These deserving students will be part of the Dean's Promising Scholars Program, the college's first four-year, full-tuition scholarship program for undergraduate students. Additionally, the Lozano Long Graduate Fellowship will provide assistance to graduate students from Texas who have financial need and are preparing for careers in education, health and sport.
Dr. Teresa Lozano Long holds the distinction of being the first Mexican American and woman to earn a Ph.D. in kinesiology from UT Austin. Her personal journey and unwavering commitment to young people have made a profound impact across the state of Texas. Joe's gift recognizes her impact as an educator and philanthropist, celebrates her love for the college, and will open doors for the next generation of education and health leaders.
Terry always believed that education was the key to upward economic mobility, and teachers are the backbone of education. My wife, Terry, would be thrilled about these new endowments offering scholarships to students in the College of Education.

Joe Long

Dr. Teresa Lozano Long's journey in education began with her experience as a middle school physical education teacher in Alice, Texas. Throughout her teaching career, she demonstrated a passion for empowering young minds and fostering a love for learning. After completing her doctoral studies at UT Austin, she joined the Texas Education Agency (TEA) and later served as a consultant for TEA's Division of Compensatory Education. Dr. Lozano Long's commitment to educational excellence extended beyond the state level when she became a consultant for the U.S. Office of Education on Migrant Education and the Head Start Program.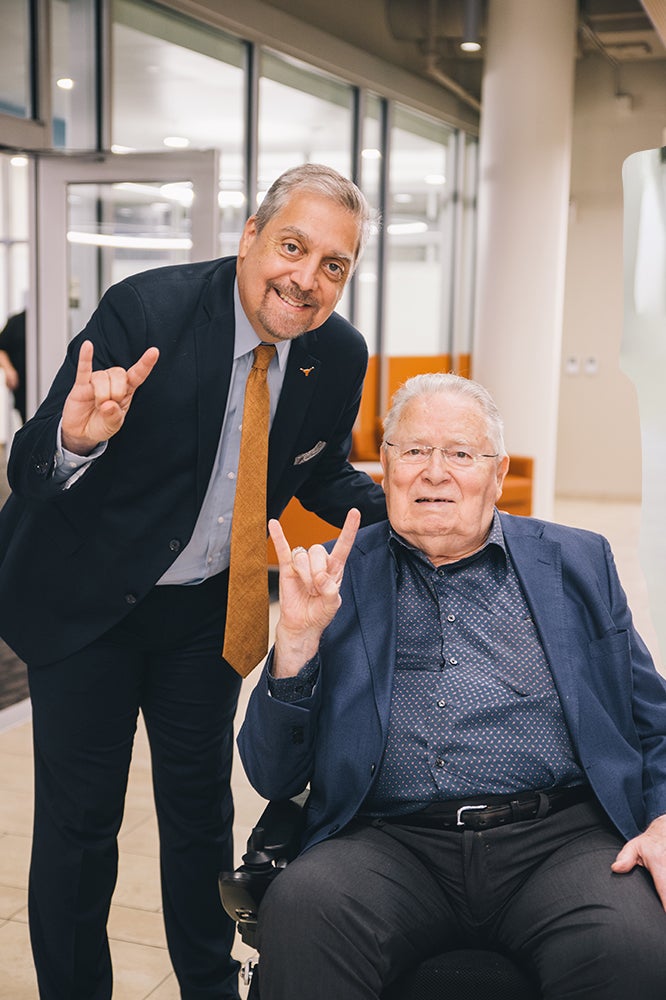 Over the years, Terry and her husband, Joe, have made lasting contributions to the College of Education and UT Austin, the Austin community and the state of Texas. Together, they established The Long Foundation, which supports Austin area organizations that provide opportunities for young people to reach their full potential through education and the arts. Terry and Joe also established the Lozano Long Promise to Hispanic Texas, a permanent endowment to benefit the state's Hispanic youth. In 2000, Terry and Joe gifted UT Austin with a $10 million endowment to name the Teresa Lozano Long Institute of Latin American Studies, acknowledging the significance of Latin America's role in the country's future.
Terry was a life member of UT Austin's College of Education Advisory Council, a Distinguished Alumna of UT Austin, the recipient of the Texas Medal of Arts Award and an inductee into the Texas Women's Hall of Fame. Terry and Joe received the Santa Rita Award, the highest honor bestowed by the UT System Board of Regents, for philanthropy and public service. In 2019, Terry was honored at the White House as a recipient of the President's National Humanities Medal.
Terry passed away in 2021 at the age of 92. Her and Joe's support of education, health and the arts has improved the lives of thousands of students. Joe's most recent contribution to the College of Education will stand as an inspiration to others and serve as an enduring symbol of the vital role educators play in society. The College of Education is honored to celebrate Terry's brilliance, generosity and impact by having our Student Services Center bear her name.
Photos By: Rick Black, Sloan Breeden Photography