In celebration of International Education Week, the College of Education is excited to share stories of global travel and worldwide learning from faculty members who have led study abroad programs for students in our college.
Currently the Associate Dean for Academic Affairs and formerly Chair of the Kinesiology and Health Education Department, Dr. John Bartholomew has been a key advocate for faculty-led study abroad in the College of Education since 2012. Through his commitment to international awareness, Dr. Bartholomew has been at the forefront of faculty-led initiatives that demonstrate a sustained commitment to providing students with a nuanced understanding of global health and wellness. A dedicated faculty member and mentor, he advocates for the cultivation of a comprehensive international perspective among students and a deeper respect for the need to understand cultures and populations worldwide.
We took a moment to learn more about Dr. Bartholomew and his travel experiences with UT and COE. Here's what he had to say.
How long have you been leading faculty study abroad trips?
When I became Department Chair, I realized that there were no study abroad options developed for KHE majors. In 2012 I led our first course to Sydney, Australia. I then taught in Lausanne, Switzerland, in 2017 and 2019. I am presently team-teaching a course with Dr. Hunt that we hope will be offered each year in Copenhagen, Denmark. This was taught in 2022 and 2023. We are recruiting for 2024.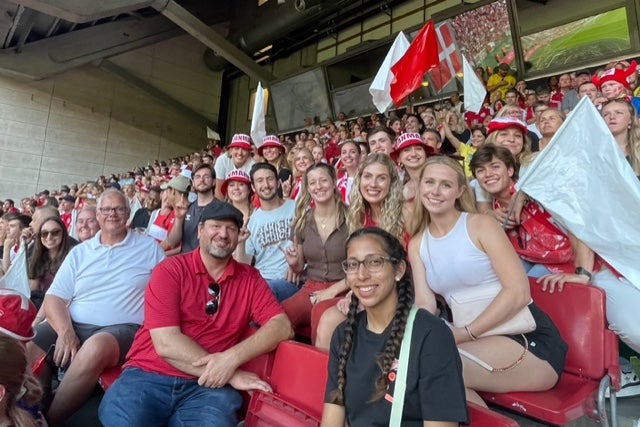 Can you tell us a little bit about a faculty-led study abroad trip so everyone can understand what that means?
Many of our students are, like me, first generation in college. Often, they have not traveled. I had not been on a plane until I was 18 years old. As such, a trip overseas can be intimidating. Faculty-led programs are nice because it is a UT course, with UT students and a UT professor. This makes it much more comfortable to travel. In addition, we go for four weeks in the summer instead of a full semester, which makes it easier to fit into their schedule.
Where are some of the destinations you've taken students, and why are these locations chosen? Do you have a favorite?
Our course focuses on international sport. The International Olympic Committee is in Lausanne, which is why we started there. When our contract ended, we realized that we could teach the course in any capital city because this is where their national sport federations are housed. We selected Copenhagen because it is a great city that provides lots to do as a class as well as places for students to visit on weekends. We visited the Danish Anti-doping Agency and the Danish history museum. We learned how to play Team Handball and visited several parks. We also host guest lectures from three to four experts on European models of sport.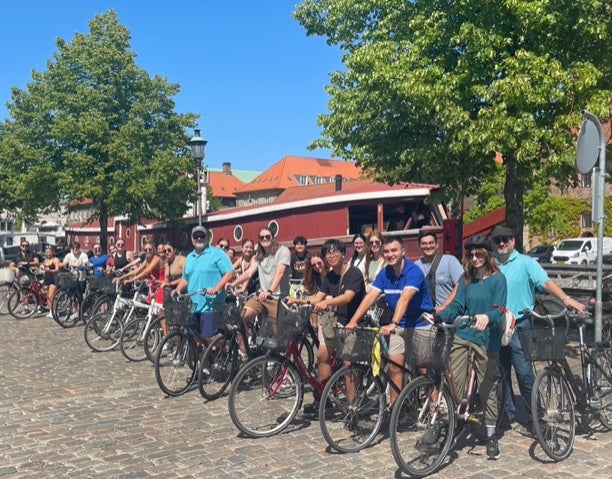 What is the experience like for faculty members leading study abroad trips?
It is one of my favorite things to teach. We develop a much closer connection with our students, but it's a lot of work. My friends think it's a vacation, but the class is intense, with a semester's worth of work being offered in four weeks. We also accompany our students on outings in Copenhagen and make time outside of class to be available. I also have all my normal work with students and the COE to complete. But again, I love the experience as it has allowed me to learn so much about different cultures, develop long-lasting relationships with students and interact with new colleagues.
In your opinion, why is participating in a study abroad program important for students' academic and personal development?
International travel is extremely fun, but it can also be intimidating to navigate different airports and train stations. It is much easier to learn as a part of a group. We try to keep at least two weekends free for students to either explore in Copenhagen or travel to other countries. I am always impressed by the number of students who travel together. We had a group of 12 travel together to Prague!
I also think there is a real benefit to being uncomfortable – this leads to growth – but in a friendly and supportive setting. The first semester living in a dorm can be challenging, but also uniquely life-changing and a true bonding experience with peers. A faculty-led course has a similar impact.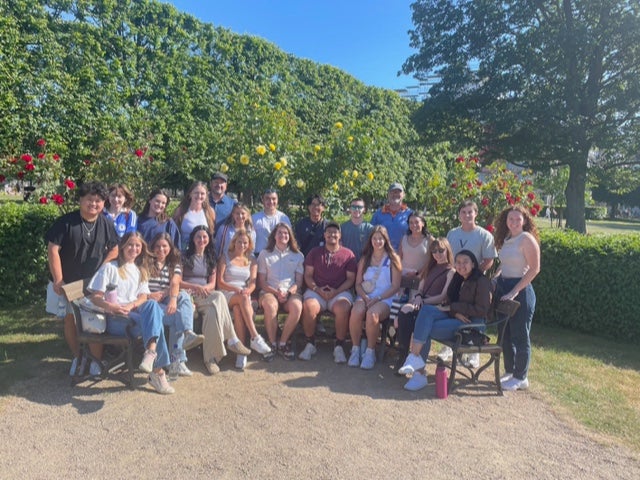 What do you believe students gain the most from these experiences, both in terms of skills and broader perspectives?
Students make great friendships. I already discussed how they travel together. They also look out for each other – making sure they get to class or events – or let us know if someone is struggling. Those kinds of relationships are hard to find but seem to consistently happen with study abroad. And, because it is a faculty-led course, those relationships travel back to UT with the student.
Is there anything else you would like to share about the significance of study abroad trips or any memorable moments from your own experiences?
We always have students who have not left Texas, but we have had two who had never been on a plane before flying to Europe. That is a clear example of the impact we try to have.
If you're a student interested in COE study abroad, please contact Education Abroad, educationabroad@austin.utexas.edu.