On September 21, the College of Education lost a beloved colleague, faculty member, and friend.
Steven E. Kornguth was a senior research fellow in the Department of Kinesiology and Health Education (KHE) in the College of Education at The University of Texas at Austin and professor of neurology at UT's Dell Medical School.
A Faculty Member and Friend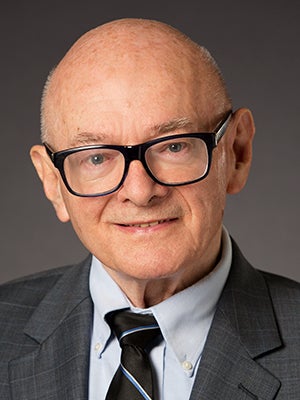 Kornguth's colleagues remember a man with a warm smile, wonderful stories, and a gift for listening. "Steve befriended many of us with his easy laugh and quick wit. He was unassuming and he thoroughly enjoyed the company of whomever he was with, be it undergraduates, generals, or senators," says Ed Coyle, professor in KHE.  "He freely shared his wisdom. Steve was a true 'mensch.' He was so humble and he didn't flaunt past accomplishments."
"As a department chair it can be hard to find good mentors. Steve was both a wonderful mentor to me and a good friend," says John Bartholomew, chair of the Department of Kinesiology and Health Education.
In the classroom, Kornguth was a well-liked and respected instructor, especially among undergraduates. He taught a popular course, Autoimmune Disease, as part of the university's Signature Courses series. The university offers these one-hour-credit courses to give undergraduate students the opportunity to work with research faculty.
He shared his knowledge and experience outside the classroom and journals. Kornguth was the first faculty member featured in the podcast, Learning from Texas Education Innovators, created by the college's Office of Instructional Innovation (OI2). In a four-part series on his career researching autoimmune diseases, Kornguth talked about his six decades of academic, military, and medical research. Karen French, associate director of OI2, collaborated with him on the podcasts. "The idea for the podcast series came from the conversations Steve and I had as we worked on designing his undergraduate course. As we visited and I learned from him, I found myself thinking that he was just too good not to share with the world," French says.
A Career in Research
Kornguth was best known, nationally and internationally for his work with the biochemical, anatomical, and functional aspects of neural development in human and other mammalian brains. He was also one of the nation's foremost researchers on the long-term effects of concussions on athletes and soldiers.
Prior to his time at UT Austin, Kornguth had a 35-year career at the University of Wisconsin-Madison, in the Departments of Neurology and Biomolecular Chemistry. In 2013, Kornguth joined KHE as a research professor after serving as director for the Center for Strategic and Innovative Technologies at the UT Institute for Advanced Technology.
He studied Tay Sachs, fetal and neonatal development, and Down Syndrome. One of his latest areas of focus was traumatic brain injury.
In his career, Kornguth led development of multi-investigator and multi-institutional teams to address large scale research approaches with translational success. He was the principal investigator on three multi-investigator/multi-institutional grants and contracts:
From 1999 to 2006, his UT Austin team worked together with the UT Southwestern Medical Branch, UT Galveston, and Army Research Laboratory to develop rapid diagnostics and treatments for protection against biological threat agents.
Between 2007 and 2011, his UT Austin team developed measures of sustained performance in soldiers from Ft. Hood and from the U.S. Military Academy.
In the mid-1990s, his UW team was funded by DARPA as part of the pathogen protection program.
His Lasting Legacy
Kornguth will be remembered by his UT colleagues, students, and friends for the person he was at heart. Says French, "Steve was an amazing storyteller and a good listener. Those two skills combined to make him a fabulous teacher. One of the best I have known. He will be missed so much."