For nearly 40 years, the Cooperative Superintendency Program (CSP) at the College of Education at the University of Texas at Austin has been a trailblazer, preparing graduates for the rigors of running public school systems across Texas and the U.S.
Consistently recognized as one of the top-ranked superintendency preparation programs in the nation by U.S. News & World Report, the CSP owes its success largely to the program's visionary leadership and faculty.
This year, the CSP will see changes across the program. Ruben D. Olivarez, who has led the CSP since 2005, will step down and begin his phased retirement. He is a professor in the Department of Educational Leadership and Policy (ELP), executive director of the CSP, and holds the L. D. Haskew Centennial Professorship endowment in Public School Administration.
Olivarez will be replaced by two co-directors, Pedro Reyes, the Ashbel Smith Professor of Education Leadership and Policy, and Paul Cruz, B.S. '87, Ph.D. '95, professor of practice, who joined the college last fall after serving as superintendent of Austin ISD.
"It's been a wonderful run. I wear burnt orange everywhere and will always be dedicated to the mission of The University of Texas at Austin," Olivarez says.
The shift in leadership represents an inflection point for the CSP and an opportunity to take a fresh look at the program.
"Dean Martinez and I are absolutely committed to preserving and building upon the legacy of excellence that Dr. Olivarez helped build. This is a critical program area for our college and our department, and we will continue to train the next generation of innovative, equity-minded executive school leaders for the state of Texas," says Victor Saenz, ELP chair.
A Proud History of Leadership
Reyes, who has been associated with the CSP program for 30 years and has worked with Olivarez for decades, credits Olivarez for reshaping the CSP and gaining national recognition.
"The program is grounded in the real world of practice. Ruben brought in not only intellectual knowledge and research expertise to the CSP, but also a wealth of experiential knowledge. When you combine those two elements you have a very powerful educator. I know Ruben will still be engaged with the college, but we will miss him," says Reyes, who brings 20 years of executive leadership experience to the CSP and an expertise in program design and development.
Olivarez's career spans more than 50 years and includes time as an executive deputy commissioner at the Texas Education Agency, associate superintendent at Dallas ISD and superintendent at San Antonio ISD. He began his career as a teacher in San Antonio and as a graduate student with The University of Texas National Teacher Corps, a program established during the Kennedy administration to strengthen elementary and secondary teaching in predominantly inner city, low-income neighborhoods.
Olivarez led the effort to incorporate the CSP's field experience component, which ensures that the students, known as Fellows, develop a first-hand understanding of the many facets of being an effective superintendent.
Fellows engage in four semesters of field experience where they spend time learning about various school functions. With the support of a field supervisor, Fellows have the opportunity to observe board governing sessions, prepare budgets with chief financial officers, and learn about responsibilities such as human resources and legislative affairs.
Another distinguishing feature of the CSP is its intense exposure to and understanding of the inner-workings of 10 distinct school district functions, including finance, governance, curricular leadership, and general operations.
"If you don't understand the many roles and responsibilities of the job, it's tough to go in and tackle anything as a superintendent," Reyes says.
Looking Ahead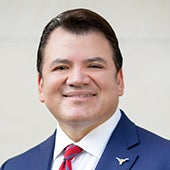 Beginning this spring, Reyes and Cruz will co-direct the CSP. A graduate of the CSP, Cruz has a long and distinguished career in public education with practical experience as a teacher, administrator, and superintendent in urban, suburban, and rural regions of Texas. Cruz began teaching in the college in the fall, offering his CSP students an insider's look at how the theory they learn in the classroom fits into practice.
Cruz has also known Olivarez as both a student and a colleague.
"Ruben has been a mentor of mine for many years. He's a true leader in education in Texas and the nation. All CSP Fellows try to live up every day to the high standards he set for the program and we plan to build on the amazing work Ruben has done to continue to make the CSP a nationally recognized program," Cruz says.
Under Reyes' and Cruz's leadership, the CSP, well-known for its focus on educational equity and attracting an ethnically and racially diverse student body, will continue to focus on selecting students committed to social justice who want to learn the skills and develop the experience needed to lead school districts in Texas, in urban, suburban, and rural parts of the state.
In the coming months, CSP leadership will connect with local school districts and will work with an advisory committee to gather input and guide the future direction of the program. The college will also hire a new tenured faculty member whose scholarly work and interests will complement the CSP program.
Saenz says, "The CSP has been around more than 40 years and has a legacy of graduating countless leaders who have gone on to be some of the most consequential superintendents in Texas. As we look ahead, we will continue to partner with school districts to grow the program however we can so we can continue to train 21st-century education leaders."
Key Facts about the CSP
CSP offers a highly selective and nationally recognized Ed.D curriculum.
It was founded in 1976 by Larry Haskew, former vice president of The University of Texas and Austin and former dean of the College of Education.
Fellows are full-time education leaders who have been nominated by their school district.
Fellows enter the program with a master's degree and graduate with a doctorate, typically in four years (72 hours including a dissertation).
Prior to COVID-19, Fellows attended CSP classes on campus two weekends per month, while continuing to work full-time. Currently, Fellows participate remotely.
The average cohort size for each new academic year is 12-14 students.