In the world of education, Rubén D. Olivárez has seen and done it all in his 35-year career. He has worked as a classroom teacher and school principal, directed the University of Texas at Austin Teacher Corps program and served in several high-profile roles in Fort Worth ISD, Austin ISD, Dallas ISD, and the Texas Education Agency. After leading San Antonio ISD for seven years, Olivárez became the third director of the Cooperative Superintendency Program at the University of Texas at Austin College of Education. He succeeded Nolan Estes, who along with Dr. L.D. Haskew, former dean of the college, founded and pioneered the nationally acclaimed doctoral program. After 15 years directing the CSP and serving as a teacher and mentor to hundreds of students, Olivárez will begin his phased retirement this summer. The CSP will be co-directed by Pedro Reyes, professor, and Paul Cruz, B.S. '87, Ph.D. '95, professor of practice.
How did you enter the field of education?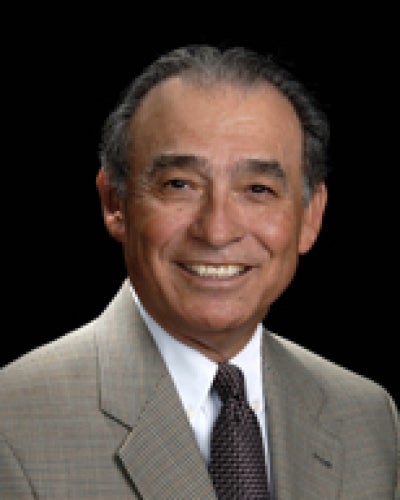 I actually took a nontraditional path to education. My undergraduate degree was in biology and chemistry. After graduating from the University of Texas-Pan American (now University of Texas Rio Grande Valley), I moved from Texas to California and I worked in the nuclear chemistry industry for a few years before returning to South Texas to get my master's degree in education.
I have two sisters who were teachers and they certainly influenced my decision to get into the field of education. While I was working on my teaching certification, I was recruited into the University of Texas Teachers Corps, which at the time was a partnership with San Antonio ISD. The Teacher Corps program was established by Congress to improve elementary and secondary teacher education and by extension expand educational opportunities for children in predominantly low-income schools.
I was placed in San Antonio ISD for two years as a classroom teacher and eventually became the director UT College of Education Teachers Corps program. As a graduate student in the program, I was encouraged by several of my UT professors to stay and pursue my doctorate degree. I eventually finished my doctorate in curriculum and instruction.
Besides your work with the CSP, what are your top three proudest career accomplishments?
My entire career has been very satisfying. However, there are several experiences that I would highlight. My experience with Fort Worth ISD as a principal in an inner-city elementary school was especially rewarding, for example. During my principalship, we partnered with Texas Christian University (TCU) and retrained the entire faculty and about 15 core teachers got their master's degree at TCU over a period of time. This intervention turned that school around and showed what can be done when you empower principals and support teachers. Eventually, I became Fort Worth ISD's assistant superintendent for elementary schools. At that time, the district was under a court-ordered student busing integration that affected all segments of the community.
From Fort Worth ISD, I went to Austin ISD where I worked as executive director for elementary schools and student support services. When I was working with Austin ISD on a study comparing student performance in several urban school districts, I submitted a request to the Texas Education Agency (TEA) asking them to disaggregate student assessment data from urban school districts by ethnicity and socio-economic status. This request was the first of its kind and at the time it was highly controversial. As a result, I was invited by the commissioner of education to join the TEA staff as deputy commissioner responsible for redeveloping the state's public school accountability system with an emphasis on student academic performance and equity. This data-driven public school accountability system has been the centerpiece for evaluating the performance of school districts across Texas for the past 20 years and has served as a model for multiple states across the nation.
My last position before becoming the director of the CSP was serving as superintendent for San Antonio ISD. During my tenure, we restructured the entire school district and invested $700 million in school construction programs. During my tenure as San Antonio's superintendent, we implemented several outstanding programs, but it's important to bear in mind that they were all part of a holistic school reform effort.
I'm really proud of the massive expansion of early childhood education that we did. When I became superintendent, I only had about one-third of eligible three- and four-year old children receiving pre-K services. We passed a major bond program to build educational facilities for this student population and went from about 500 to 3,000 pre-K students in full day programs at strategically located early childhood centers.
Another important part of the restructuring work we did in San Antonio had to do with middle school education. We talked with parents about why they were leaving the school district and learned that middle school was a major concern. We restructured the middle school experience and created highly personalized and interdisciplinary academies. These resulted in tremendous gains in student performance across the district.
Why do you think the CSP has been so successful? What makes the program stand apart?
The CSP is unique because it is a custom-built doctoral degree (Ed.D.) program. Typically, we select only about 10-18 fellows to participate in the program in a cohort each year. All CSP fellow candidates must have demonstrated successful performance as educational leaders (superintendents, principals and mid-managers) before entering the program. The program has produced statewide educational leadership in all capacities. We have had commissioners of education who have graduated from our program and we have practicing superintendents working all over the state. The CSP brand is well-established, important and highly-respected.
One of the hallmarks of the program is the unified curriculum that bridges academic research and real-world experience. Every fellow is directly exposed to the 10 key functions of a school system from governance and operations to finance and business management to transportation and human resources.
What is the most important advice you can offer future school leaders, especially superintendents?
My most important advice is for superintendents to take care of their teachers. The teacher is the program. Every decision a school leader makes should center around how it will help teachers do a better job of serving students. Unfortunately, this often gets lost in the ongoing day-to-day school system operations
I always tell my CSP students that the reason they are here is not to describe what is, but to go beyond that and describe what should be. Along these lines, I like to remind them that not making a decision is actually making a decision. It's not difficult to know what's right. What's hard is to speak up about what you think is right and to take the appropriate leadership actions.
What are some of the things you want to do in your retirement?
Starting this summer, I will be working with the College of Education on a part-time basis. I really love what I do and my plate is full. I will continue to supervise dissertations, sit on dissertation committees and work with students. I spend a lot of time writing letters of reference!
I also look forward to spending time with my family and my grandkids. I have a lot of landscaping to do after the big winter storm. I'm turning 75 next fall, but I know I will stay busy and involved.