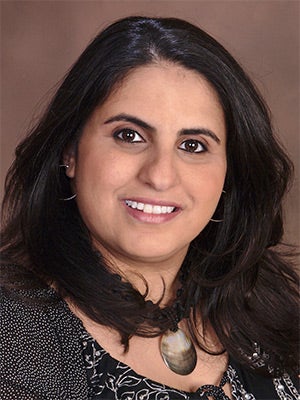 The College of Education congratulates Germine "Gigi" Awad, Ph.D., on being awarded a 2021 Presidential Citation by the American Psychological Association (APA) in recognition of her commitment, dedication and leadership in advancing strategies to disarm and dismantle racism in the field of psychology.
Awad has an extensive body of research and expertise in interrelated areas of inquiry: prejudice, discrimination, identity, acculturation and body image among women of color. Her work focuses on how racial and ethnic identity and acculturation impact discrimination, with a focus on the Arab/Middle Eastern American and African American populations.
Awad is an associate professor in the Department of Educational Psychology. In addition, she is a fellow of the American Psychological Association and co-chair of the APA Presidential Task Force on Strategies to Eradicate Racism, Discrimination and Hate. Awad is nationally recognized for her expertise in American Arab, Middle Eastern and North African psychology and has consulted with the U.S. Census Bureau about research methodology to revise the race/ethnicity category for Middle Eastern and North African groups.