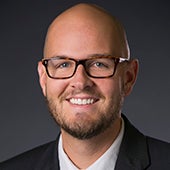 The College of Education would like to congratulate faculty members Matthew Bowers and Tolga Ozyurtcu, both associate professors of instruction in the Department of Kinesiology and Health Education, for being selected to the 2022 Cohort of Provost's Teaching Fellows (PTF).
They were selected from a competitive group of applicants and are two of 11 faculty members from across campus selected for the 2022 PTF Cohort.
The Office of the Senior Vice Provost for Faculty Affairs and the Senior Vice Provost for Academic Affairs offered support for this year's Provost's Teaching Fellows cohort to empower UT's best and brightest professional teaching faculty to create cultures of change in their departments and colleges.
The Provost's Teaching Fellows Program empowers faculty to advance education in two ways: through individual initiatives that improve teaching and learning at UT, and through campus-wide events that promote the quality of education and its status in the campus culture. The PTF Program operates in conjunction with and is supported by the Center for Teaching and Learning.