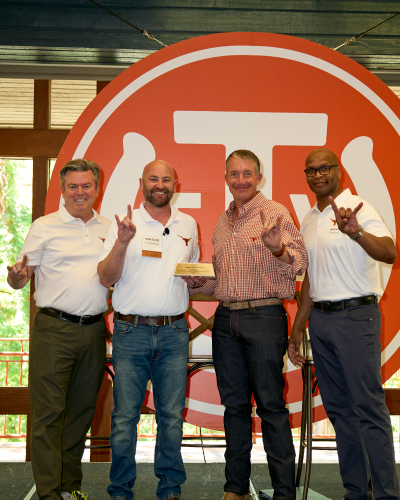 College of Education alumnus Colin Muething knew from a young age that he wanted to work with individuals with disabilities—that it was his calling. After working as a special education teacher, he moved to Austin to go back to school and received his Ph.D. from the College of Education School Psychology Program in 2016. Since receiving his Ph.D., Muething has made huge impacts on children and families, transforming their lives through his assessment and treatment of severe problem behavior at the Intensive Outpatient Program in the Severe Behavior Program that he manages at the Marcus Autism Center in Atlanta, Georgia. He also serves as an assistant professor in the Department of Pediatrics at Emory University School of Medicine.
In recognition of his significant achievements in his career and his service to UT Austin, Muething was recognized as a 2022 Outstanding Young Texas Ex by the Texas Exes. He recently spoke with us about his work, research and how the education and mentorship he received in the College of Education helped prepare him and opened more doors for him to live out his life's calling and advocate for a population that few know about.
Can you tell us more about your current research and practitioner focus?
I am a licensed psychologist and board-certified behavior analyst at the doctoral level (BCBA-D), and I oversee the Intensive Outpatient Program in the Severe Behavior Program at the Marcus Autism Center. We serve children from around the country and around the world who engage in the most severe forms of problem behavior. For example, we see kids who engage in dangerous forms of aggression, self-injury, destructive behavior, pica (ingesting inedible objects) and elopement (running away from supervision and towards dangerous situations, such as running into traffic or bodies of water).
I have specialized my entire career on the assessment and treatment of these most severe forms of problem behavior, in part because there is tremendous need for these services. For families, it is very hard to find adequate services leading many of these children to end up going in and out of emergency rooms or other short term inpatient facilities. These children without treatment can be very challenging to take care of at home. To illustrate, there are only a few treatment facilities in the country and the wait list at programs like mine can be up to three years.
One area that I am researching is improving the maintenance of treatments. As a field, we do a really good job at getting control of the problem behavior in a clinical setting leading to reductions in problem behavior 80 or 90 percent. The real challenge and where my clinical skills come into focus is when we are trying to help caregivers implement the treatments in the home. I am very focused on the relapse of problem behavior. Why does relapse occur? What happens during a relapse? How often does relapse occur? How do we prevent relapse from occurring?
How did you become interested in this kind of research and behavior analysis, and how did that lead you into your current position?
My answer goes all the way back to my childhood. Growing up, my family included my uncle who lived with us since I was about seven or eight years old. He has Down syndrome and I grew up helping to take care of him and going along with him to adult camps and day programs. My mom is also a behavior analyst for a school system and I went to work with her and observed all the things she did. Between helping my uncle and watching my mom I definitely gravitated towards working with individuals with disabilities—I knew that was going to be my field.
Early in my career, I got the opportunity to shadow Dr. Nathan Call, who is now the Interim VP of the Marcus Autism Center. At the time I was shadowing him he was in my current position, running the intensive outpatient unit. And I remember thinking "Yeah, this is it. This is what I want to do!" And now, here I am, doing the exact thing that I saw him doing. I'm actually doing it now and I love it.
You received your Ph.D. in school psychology but work in behavior research. How did your program prepare you for the work you do today?
I have a bachelor's and master's degree in special education and was a teacher before I went back to school. I did a good amount of my Ph.D. work in the Department of Special Education—so I was kind of a hybrid student—blending training from the two departments. Part of the reason why I went the school psychology route was because in shadowing Dr. Nathan Call I realized that being a licensed psychologist as well as a behavior analyst opens up more doors. It was about making sure I had the most options. While I did a lot of my work in special education, I firmly believe that if I wasn't also a psychologist I wouldn't have developed the bedside manner, skills and understanding of family systems that are needed in my job. So for that reason I chose psychology, so that I have both of those skill sets to make me a better, more well-rounded clinician.
How did you choose the School Psychology program at UT? And what advice would you have for someone interested in a specialized Ph.D.?
The College of Education at UT Austin was the best of both worlds—they have one of the top school psychology programs in the country and they also have a great behavior analysis and special education program. Another big reason I chose UT is because I would get to work with Drs. Terry Falcomata and Mark O'Reilly—both of whom are faculty members in the Department of Special Education and both conduct applied behavior analytic-based research with individuals with development disabilities. To be able to get both experiences and work with some of the best researchers in the field, made it a perfect fit for me.
My advice is that when you're looking at a Ph.D., you really need to look at who your mentor is going to be and find somebody that you think is going to be a good mentor. Going into a Ph.D. program, you are a lot more on your own; obviously you have to take classes, but you also have to build your education and if you don't have a mentor that is in an area that you want to specialize in, or at least that you think you want to specialize in, I don't think it's going to be a very fruitful experience. The vast majority of my work at UT was with Dr. Terry Falcomata.
What impact do you hope to have on the patients and families that you work with?
The reason I like my job so much is because I literally get to change people's lives drastically. We are taking kids that are in and out of the hospital, in and out of short-term hospitalizations, and on lots of restrictive medications. A population whose parents can't leave their house or have friends and can't find appropriate babysitters for their children. When I am able to get a treatment in place that really works—the impact on the family's life is unreal. You can't even imagine some of the things I've seen and then some of the changes I have seen and been a part of. To say that it is life changing doesn't do it justice. The results are incredible and the positive impact that you have on families is hard to even put into words.
What's the next step for Colin Muething? What do you see in your future?
For me, next steps are continuing to see more and more kids and expand our services—a three-year wait list is unacceptable in my mind. There are also more and more kids showing up in emergency rooms, so whether that's within my own department or training other centers to treat these children–I foresee both happening.
More advocacy work is also in my future. The general public doesn't know these kids are out there. People walk on my unit and they comment on how they have never seen anything like this. There are only a handful of places in the world that are doing what we are doing. These children are either in emergency rooms or they're at their house, and that's about all that their families can do. This population of children is fairly hidden from view. But there are hundreds and hundreds and hundreds of kids out there that need our care and treatment.
I'm always trying to find ways to advocate for this population because there's not enough funding. There are not enough programs. There's not enough treatment and there are no places for these kids to go and it's sad. It's my job to advocate for and find solutions for these kids as I continue to try my best with every kid that I see. I want to help make policies not just at the state level but at the national level. I want to do what I can to help change the lives of more children with these behavior issues and their families.