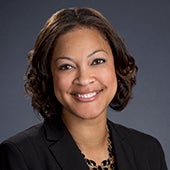 Assistant Professor Tia Madkins has been awarded a 2022-2023 Research & Creative Grant (RCG) for her study, Racialized Mathematics Learning Environments Phase Two: Understanding Teachers' Racialized Beliefs.
The RCG funding will allow Madkins to develop the first large-scale survey ever used to examine secondary mathematics teachers' beliefs related to minoritized students, families and communities and inclusive teaching practices nationally. Madkins's research will also examine the range of teaching practices used by secondary mathematics teachers to determine how they can promote inclusivity and student belonging, and how their beliefs and practices may be associated with the racialized context of schools and of mathematics classrooms in their schools.
The RCG program is administered by the Office of the Vice President for Research, Scholarship and Creative Endeavors and promotes research, outreach and creative activities in all disciplines that result in publications, patents, recognition, awards or exhibitions/performances appropriate to the researcher's discipline.