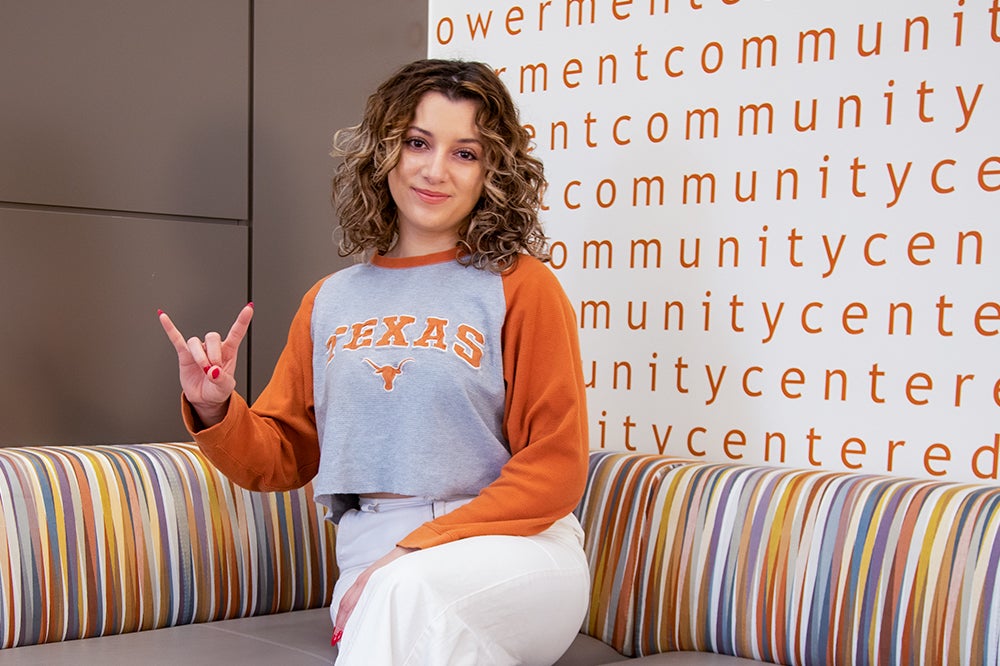 Photography by Zoe Webb
Meilani Gracia, a senior in the College of Education, came to The University of Texas at Austin in the fall of 2019 from Brownsville, Texas, a border town in South Texas. Meilani is in the process of completing her final semester of student teaching in Del Valle ISD, a growing suburb of Austin. The combination of her love of working with children, being the daughter of a teacher and having experienced what it was like to have a great teacher growing up—helped Meilani know that being an educator was her life's calling as well. Her next challenge was making it happen.
Meilani's road to becoming an educator and a soon-to-be graduate of The University of Texas at Austin has not been an easy one. Fueled by persistence, drive, extremely hard work and the support of her family, scholarships, professors and mentors in the College of Education, she is preparing to enter the classroom as a skilled and dedicated teacher committed to inspiring the future leaders of Texas and beyond.
We sat down with Meilani as she shared her journey to the Forty Acres, her experiences as a Longhorn, and her insights and advice for incoming and current students interested in making a meaningful impact.
Tell us about your journey to UT and the College of Education.
I was fortunate that I got accepted into every university that I applied to, and honestly, I chose to attend UT because they offered me the best financial aid package compared to all the other schools I was accepted to. UT offered me grants, not just loans; and when I saw that financial aid package I knew—I knew I was going to be able to leave Brownsville and go to college and be able to financially make it. It was an amazing moment!
I was initially accepted to UT as an undeclared major in the College of Liberal Arts and then transferred into the College of Education after my freshman year.
Finances are a concern for a lot of students and families. Did you receive any other scholarships or financial aid?
Yes, I also received other smaller scholarships that really helped as well because smaller scholarships add up; and I have continued to apply for and receive scholarships throughout my time at UT.
My senior year of high school I received three scholarships out of 33 that I applied to and they were pretty small—not the big huge ones you hear about. But the smaller scholarships are great because they add up and they have helped so much and I have never stopped applying. I even have an organized excel sheet on my computer where I keep track of all the scholarships I am applying to, their deadlines and requirements, etc.
In high school we had a computer lab dedicated to anything college related and every day I was in there applying to scholarships. Every month the college advisor would have a list of scholarships that were due that month, and every month I would get it from the table and I would apply to all of them. Even if some of my chances were low, I didn't care, I wanted to be able to leave for college and I was going to do anything I could to make it happen—and I did! I was kind of crazy about it but I think sometimes you have to be persistent to make things happen.
My second semester at UT I got a work study job on campus in the College of Fine Arts and still work there today. I really love my job, and my supervisor is so kind and has in a way, watched me grew up a little bit. It is a really good job and flexible, and I always highly recommend that everybody try to get a work study job if they are eligible. They understand you are a student and understand your academic commitments and will work with you.
You are also a recipient of the Charles Butt Scholarship. Can you tell us more about that and the impact the scholarship has had on you?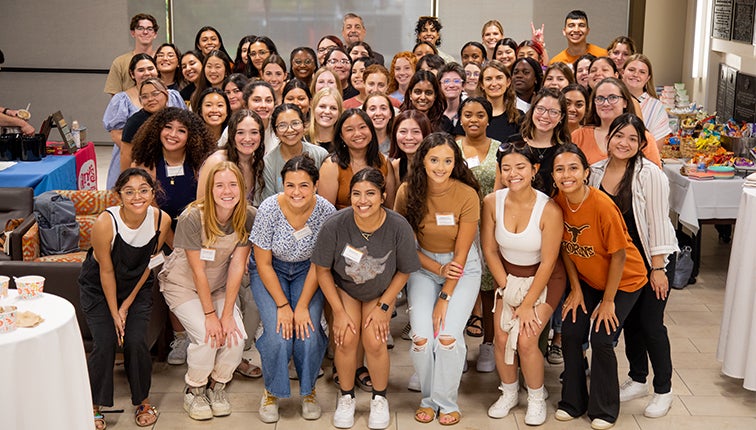 When I transferred into the College of Education I learned about the Charles Butt Scholarship for Aspiring Teachers and that really changed my life!
When I first heard about it I was skeptical about my chances because I had never really received a larger scholarship but decided to give it a shot and I submitted my application in the spring of 2021. I got the email during spring break that I had made it to the second round, and then I went through the process and eventually did receive the scholarship!
And it came at the perfect time—right before I was going to start my professional development sequence and start going into classrooms. In addition to providing tuition support, the scholarship allowed me to cover the cost of transportation to and from my student teaching, and this semester I am using the remaining disbursement of money to help buy teacher clothes and help pay for my teacher certification exams. I don't have that many nice teacher clothes to wear in the classroom and I am going to be there every day, so that is a big necessity of mine.
When you add up the cost of transportation to and from your internships and student teaching, clothes for the classroom and the certification exams—that is a lot of money I would have had to come up with—so truly this scholarship has been an amazing blessing for me!
What has your student experience been like in the College of Education?
I would say that my experience has been very insightful and fruitful. I haven't had any issues with any professors—in fact, all of them are very kind and empathetic which is amazing. They see you as individuals before they see you as students and they understand that sometimes life happens and I have always seen and experienced them respond with compassion. If you think about it, they are teaching future teachers, so they are modeling behavior also. I would say that overall it is the nature and culture of the College of Education—everyone is very nice to each other and very caring. You are not just a number, you are seen and they know your name, and I have spoken to the dean multiple times—it's just a warm and friendly environment.
How has our program helped prepare you for the classroom?
What I love is that the program is structured so that the classes you take each semester are very well aligned with what you're seeing during intern one or intern two. What I was learning in class on Monday, I would go into the classroom on Tuesday and realize I was experiencing and seeing what we talked about in class. There is a lot of alignment and it is very applicable. I think it is interesting that my major is applied learning and development and everything I am learning is being applied in my internships and student teaching—it's a neat connection.
If you could change one thing about your college experience what would it be?
In the fall semester I was placed in a third-grade dual language class and I loved it! I was able to deeply connect with the students because we have a lot in common and similar backgrounds. So if I could change one thing about my college experience, I would have chosen the bilingual program in the college instead of the general certification. I would tell any new students entering the college to really consider the bilingual program if they speak more than one language.
What advice would you give new incoming students wanting to pursue a career as an educator?
There are a couple of pieces of advice I would give to new students:
Make friends and connections—these people really will help you through your time in college.
Apply for as many scholarships as you can and definitely apply to the Charles Butt Scholarship. It does not matter if you've never won a big scholarship before, because I had never won one either and it has helped me tremendously.
When you get to your internships and student teaching, take advantage that you're doing this as a student and ask as many questions as you can—even if it's about how to take attendance or input grades—gather as much information as you can. I'm always asking questions, even if you think they're not amazing questions, just ask them because it is all for your own well-being it is all insightful for you.
What is next for Meilani—what do you see in your future?
The first thing I see is getting my own classroom and finally teaching right after I graduate. I get so excited when I talk about it and think about it! I really like Austin and would like to stay in this area at least for a while—maybe one day I will go back to Brownsville, but I would like to stay in the Austin area first. I will have a job so I can go out and do more things and enjoy the area!