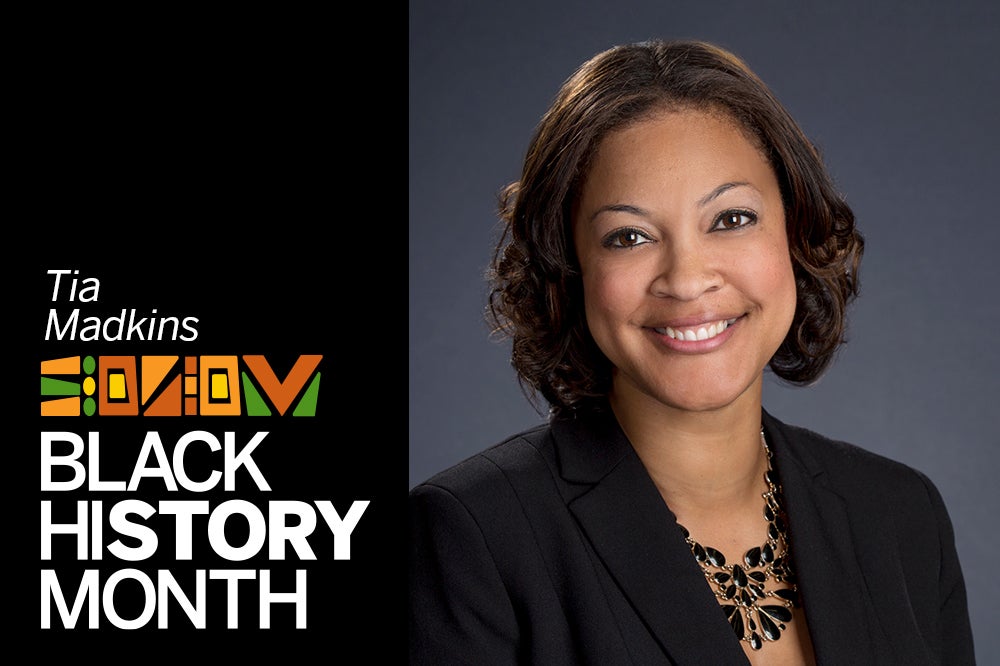 As part of a storytelling series celebrating Black History Month, we welcomed our community members to share their stories to inspire others and encourage open, thought-provoking dialogue. We sat down with Dr. Tia C. Madkins, assistant professor in the Department of Curriculum and Instruction, to tell us more about her background, research and one of her biggest accomplishments.
Dr. Madkins is a third-generation teacher who grew up in Atlanta, GA and comes from a long, rich history of Black educators who taught mostly in segregated schools in Texas and Louisiana. Two of her favorite maternal aunts taught elementary school children for over 100 years collectively in Shreveport, LA. Her paternal great uncle was a school and district leader for segregated schools in East Texas. Much of her work is grounded in honoring their legacies and in her desire to serve and work with minoritized children, families, communities and educators. Dr. Madkins' research examines equity-focused PK-20 STEM teaching and learning across urban contexts with a focus on Black girls and women.
What does Black History Month mean to you?
Black History Month has always been an important celebration in my familial, church and other communities. Although it is the shortest month of the year, it is a time where we can all honor and celebrate people who are racialized as Black in the U.S. and beyond. It's important that everyone tries to understand the various ways Black ethnic communities are always contributing to our greater good — and do so without cultural appropriation or engaging in surface-level forms of solidarity.
Do you feel your research interest area has been shaped, changed or influenced by current events, now or when you were younger?
My research interests are certainly shaped by various civil rights movements within the U.S. and across the Diaspora. As a young child, I was already developing my own critical consciousness and adept at pointing out racial injustices in local, national and global communities. I have always been a member of Black churches that serve our communities, amplify voices and seek justice. Over time, I have learned how my research and teaching agendas are both responsive to and shaped by the myriad forms of social injustice and systemic racism in our society.
What do you feel are some of the biggest challenges you've faced in your academic or professional career, and what are some of your greatest accomplishments to date?
I am proud of our most recent research projects that are focused on racial equity, including an NSF-funded project ($8.8 million) focused on racial equity for Black STEM undergraduates. This project involves Black scholars at UT Austin and five other institutions (two of which are HBCUs) as we seek to nuance the field's understanding of Blackness in STEM and what racial equity means to Black undergraduates who are STEM majors. (See this Daily Texan story.)
Was there anyone or any program that helped give you confidence or mentorship along the way? If so, tell us a little bit about that experience and what it meant to you.
I am most grateful for my parents and family members who have always supported my intellectual curiosities and professional trajectory. I learned much of my STEM knowledge as a young child at home, at church and in our local community. These experiences have shaped my onto-epistemological stance on STEM teaching, learning and research. I am also thankful for my mentors across all of my educational experiences, especially during my graduate training, who continue to provide me with consistent support, encouragement and feedback.
In the past few years there have been many movements for change and changes made in the story of Black history. Are there any notable recent changes that you have noticed or really appreciated?
Black people have always strived to make our world better and I am especially proud of the way Black women, in particular, have been elevated and celebrated in the last few years.