By Kendall Payne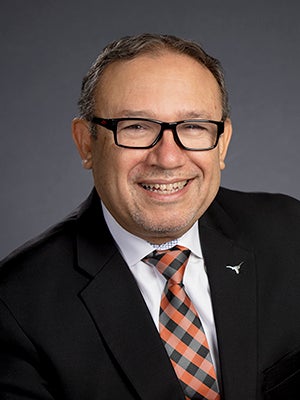 Dr. Pedro Reyes, the Ashbel Smith Professor of Education Leadership & Policy and Executive Director of the Texas Education Research Center, was named to the inaugural national P-12 Research Advisory Council (RAC) for The Education Trust, an organization committed to advancing policies and practices to dismantle the racial and economic barriers embedded in the American education system.
As a member of the 12-person RAC, Dr. Reyes will work with other members to advise Ed Trust's research agenda on teaching and curriculum and provide insight on the educational landscape to help identify specific equity-based research projects that can deepen and expand the work on Ed Trust's P-12 priority areas.
The council consists of academics and researchers from top universities across the country who conduct groundbreaking, equity-based research. Dr. Reyes' research and expertise are in education and opportunity, particularly on student success for children experiencing poverty, and how school leadership and state policy facilitate student success across the education pipeline.
Dr. Reyes' membership on the RAC is a one-year appointment with the possibility to serve up to three years.
Read more about The Education Trust and the inaugural Research Advisor Council on the Ed Trust's website