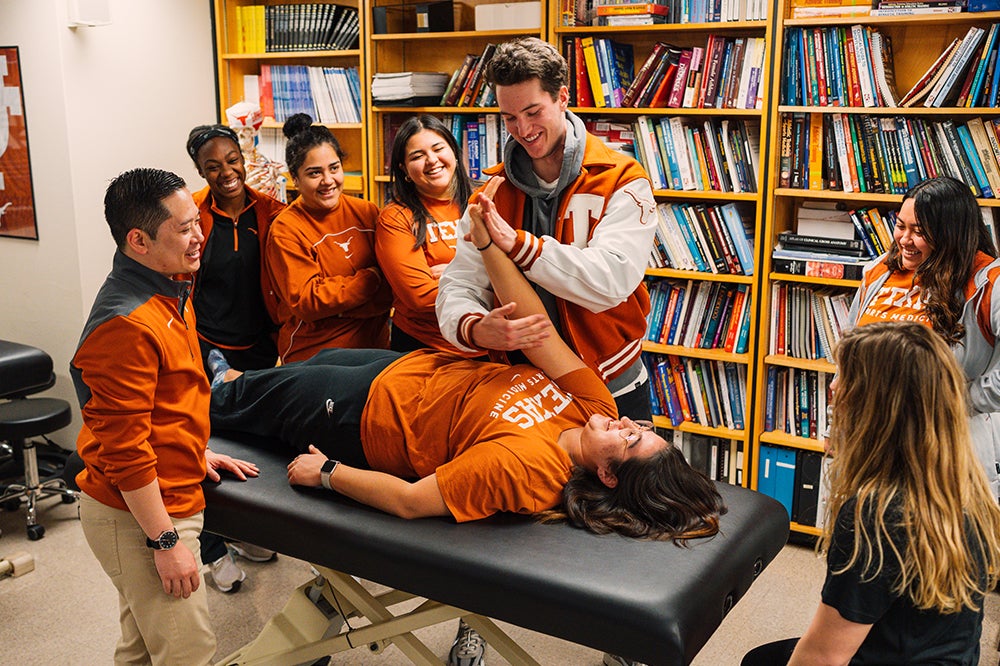 In recent months the athletic training (AT) profession has received a lot of attention largely due to the quick actions and outstanding responses from the Buffalo Bills athletic trainers. Athletic training officially became a major in the College of Education in 2002, and since then our AT students and alumni have been making big impacts in their communities and organizations for which they work.
Brian Farr, clinical associate professor and director of the Athletic Training Education Program in the College of Education, and Kelvin Phan, clinical assistant professor and clinical education coordinator, sat down with us to talk about how the college is preparing the next generation of athletic trainers and what they see developing in the profession moving forward.
We also spoke with Mohammad Al Hasan, a current student in the Athletic Training Program who is preparing to graduate this spring. He was inspired to pursue a career in athletic training after he injured his knee in high school playing sports; and due to his tremendous academic and leadership promise, Mohammad was awarded a Dean's Promising Scholarship, the college's four-year, full-tuition scholarship program for undergraduate students who in addition to academic and leadership excellence, demonstrate the potential for service to the community and a desire to improve the lives of others.
Mohammad spoke with us about how the Athletic Training Program has prepared him to meet his future goals, the impact of being a Dean's Promising Scholar and advice he has for other students.
Brian Farr and Kelvin Phan
Can you tell us about your background and your route to doing the work that you do?
Farr: I first came to UT Austin in 1999 as an assistant athletic trainer with UT's sports medicine and athletic training (AT) staff providing healthcare to UT's student-athletes. When I arrived an internship/apprenticeship program for students was in place and I took over the role as coordinator for that program while still serving as a staff AT with athletics. At that time, our national body was eliminating the internship/apprenticeship route to become certified and mandating that students graduate with a degree in AT from an accredited AT Program (ATP) in order to become a Certified Athletic Trainer (ATC). At that time, UT did not have an actual major in AT. Students could major in any major, take a few AT classes and accumulate 1500+ apprenticeship hours. I began developing what is now the Athletic Training Program (ATP) and it was approved as a major in 2002. I then moved from athletics to the Department of Kinesiology and Health Education to serve as the ATP director and have been in this role since. Years later we moved the AT major to an actual Bachelor of Science degree in athletic training to comply with updated accreditation standards.
Phan: My role in the Athletic Training (AT) Program here at UT consists of being a clinical assistant professor and serving as a clinical education coordinator. I knew early on during my undergraduate education that I wanted to be in this position. The steps I took thereafter have purposefully led me to this point in my career. The next step after completing my undergraduate degree was investing in a post-professional graduate program that not only focused on enhancing my clinical skills and introducing me to scholarly activities, but the program also prepared me to be an educator. Then, what really accelerated my career path to being an educator was taking on a faculty appointment immediately out of graduate school that gave me a chance to teach in an accredited program, perform administrative responsibilities and be clinically active as an Athletic Trainer (ATC). Ultimately, in aspiring to be the best version of myself, I knew I had to obtain a terminal degree so pursuing a Ph.D. in teaching and administration was my next, and most recent, step.
In your current work what question or issue do you find the most fascinating?
Phan: In the context of my responsibilities that revolve solely around teaching and service, the issues I am most interested in are the education of our students and the delivery of our program. With that said, these issues matter because the AT profession is currently on its fourth iteration of educative practices, or standards. Therefore, as an educator, having to continually adjust what students learn, how it is structured, and how we deliver it to them is most fascinating to me. From the breadth and depth of what a graduate is supposed to know to the tools and technology we have as educators and students as learners, all this is vastly different than what occurred in learning spaces just a decade ago. And as our student population is constantly changing, we as educators must change with the system and its inhabitants in order to sustain an effective learning environment. The challenge to adapt and evolve is the motivation I have to improve what it is that I do.
Over the course of the last few years, what do you see developing when it comes to the athletic training profession?
Farr: While AT has always been a healthcare profession, there has been a focus on showing that to the public. Many people have no idea what we actually do. They don't know that we are trained to handle the spectrum from minor injuries, illnesses, and conditions to major issues and even life-and-death situations. There has also been a strong push to get ATs in non-traditional settings. Most ATs work in high school, college and professional sports – the traditional setting – but an AT's skill and knowledge suits working with a variety of settings from sports medicine clinics, to physicians' offices, to hospitals, to corporate industry (e.g. Toyota, Tesla, Amazon), to the military.
Additionally, there is a major push and focus on evidence-based care and evidence-based medicine. Like many healthcare professions, many ATs held on to traditional approaches and interventions. Over the past decade and certainly over the past few years, there is a ton of research being done to really understand the hows and whys of what we do. One prime example is sport-related concussions. The AT profession has been at the forefront of researching how concussions occur, exploring possible ways to minimize the risk of sustaining a concussion, and the best practices for managing patients with concussions.
What can a student expect if they are interested in applying to the athletic training program?
Farr: Students can expect to learn a ton of information about athletic training and sports medicine, and be well-prepared to move on to master's degree programs in athletic training, doctoral degree programs in physical therapy, physician assistant school and/or medical school. Though our accredited Athletic Training Program is closing and there will be some changes to the curriculum, students can still expect a high-quality and rigorous education in the classroom and some amazing clinical education experiences.
Phan: We will challenge students to excel in the classroom and perform with confidence in the clinical setting. And while balancing these responsibilities along with enjoying the college lifestyle can seem overwhelming, the lessons students learn about commitment, perseverance and time management will grant them success here on Forty Acres and beyond.
What advice would you give students about to graduate and enter the profession?
Farr: Think of and treat yourself as medical professional because that is what you are. Be prepared to make a positive impact in many peoples' lives because that is what you are capable of doing. Continue to push yourself to be the best person and provider that you can be because that is what is expected of you. Enjoy the journey. Your career and your life will have ups and downs, but remember that you can handle it and thrive.
Phan: Once you graduate from the program, you enter the show. The decisions you make will be on you. However, do not let that scare you because you have graduated from the Athletic Training Program at The University of Texas at Austin. Quiet that fear with confidence and build your confidence through preparation. And when you have questions or need help, know that you have a network of Longhorns out there to support you.
In light of recent events around Damar Hamlin and other safety protocols in professional sports, how do you feel the program is preparing students?
Farr: We are constantly reminding students that they are future medical professionals and that they must be ready at any moment to manage an emergency situation – even in their current role as students. We teach specific emergency and life-saving knowledge and skills to students from their very first class in the program and continue to reinforce and add to that information during their entire time in the ATP. Students review and practice emergency action plans every semester in their clinical education rotations. While the Hamlin situation is getting a lot of attention, the fact is that athletic trainers save people's lives every single day. It may not be doing CPR on national TV, but it happens every day. From diagnosing a concussion and removing a wrestler from competition, to referring a soccer player with a congenital cardiac condition, to recognizing an abnormality in a pre-participation physical and referring that patient to the appropriate specialist to manage an athlete with diabetes. That is what athletic trainers do every single day and we remind our students of that. And, they see it in our classes and in their clinical education rotations.
Phan: We prepare our students to manage critical incidents by educating them on conditions and situations to allow them to recognize and intervene accordingly. In addition to classroom instruction, students have opportunities for hands-on clinical practice beside experienced clinicians to solidify their knowledge, skills and behaviors. One aspect of critical incident management we emphasize is prevention. We connect prevention with advocating for the populations they serve, and by implementing evidence-based policies and procedures. Another aspect we emphasize in our program is gaining clinical education experiences. The knowledge to perform a task versus the capacity to perform it are miles apart and clinical education experiences are where students get their "reps" and learn under low-stake scenarios.
Farr: I am very proud of our program and thankful to all the students, staff and faculty that have worked to make it one of the top programs in the country. Though the accredited program is closing there is a lasting legacy – 92% of our program's graduates enter a healthcare-related graduate or professional school and/or obtain jobs upon graduation. Our alumni are athletic trainers, physical therapists, physician assistants, chiropractors, and physicians in high schools, colleges and universities, professional sports, sports medicine clinics, industrial and corporate settings, military settings, etc. Our alumni are positively impacting society and are proof that what starts here changes the world.