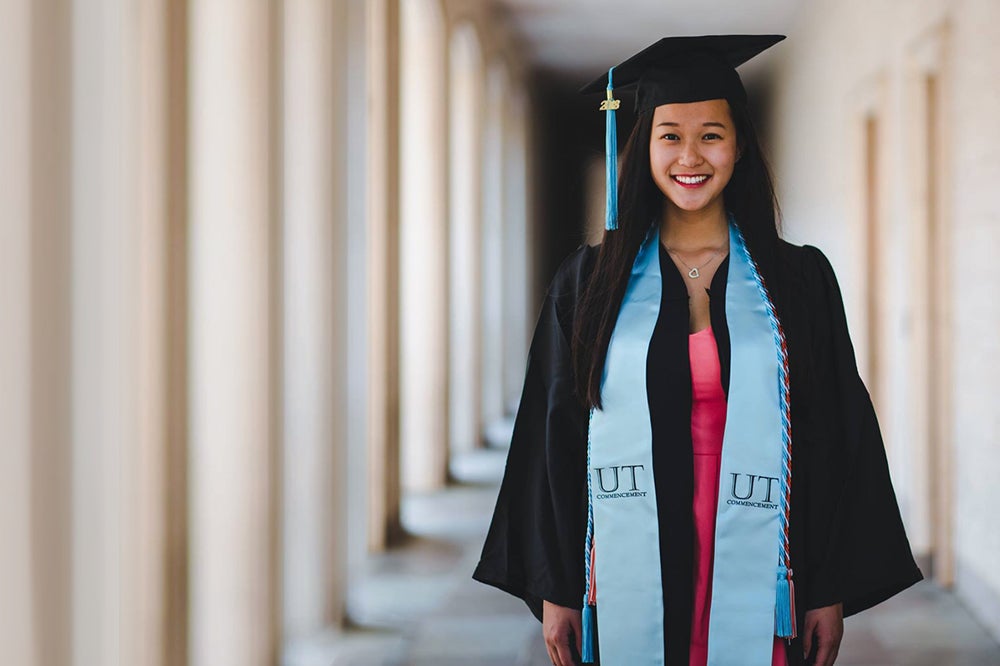 In the spring of 2018, Katy Jao graduated from the College of Education with her bachelor's degree in applied learning and development and headed west to California to begin a career in education, teaching and learning – she has continued to make big moves ever since. With the recent publication of her first children's book, not only is she carving her own path, she is sharing her love for education through helping other teachers and inspiring young bilingual learners.
When Katy was two years old her family moved from Taiwan to Spring, Texas. While in high school, Katy took a child development class and would go to the local elementary schools. It was working with children during those experiences that she discovered her passion for teaching. Knowing that she wanted to be an educator, she set her sights on attending the College of Education at The University of Texas at Austin. After graduating from high school magnum cum laude, she moved to Austin and began her college journey on the Forty Acres.
When she arrived on campus for freshman orientation she had no idea that a chance meeting to learn more about the Bilingual Education Program would change the course of her future career. While at UT, Katy made the most of her experience: she was a Jefferson Scholar, First-Year Interest Group (FIG) Mentor, studied abroad in Seville, Spain and cultivated strong and long-lasting relationships with not only her classmates and cohort members, but with faculty members who were instrumental in inspiring her as well. Needless to say, it is those relationships that would eventually connect her with Aparicio Publishing.
To learn more about her incredible story and her first non-fiction Spanish children's book "El maíz nos une" we sat down with Katy who also shared her advice for incoming and current students.
When you arrived in the College of Education you were not initially looking to pursue bilingual education – can you tell us what lead you down that path?
I remember being at freshman orientation and someone saying that there was a meeting about the bilingual program if anyone was interested in going. I spoke Mandarin so I thought "this is fantastic – I should check this out." It was at that meeting I found out that the college only offered Vietnamese and Spanish bilingual programs (at that time). I took Spanish in high school and middle school but was not fluent, and honestly, I thought this might be a good opportunity to learn a new language in four years so I went for it. I took Spanish classes at UT, and then my sophomore year I studied abroad in Spain and that is when my Spanish got much better and I actually ended up minoring in it.
As my courses progressed in the College of Education, all of my teacher placements were in bilingual classrooms and I had several classes that were fully taught in Spanish – so I got plenty of practice and eventually became fluent in the language. As I continued through my bilingual teaching program, I learned about the incredible impact of bilingual education on preserving cultural identity and promoting native language development. Thanks to my cooperating teachers and my professors, I learned that teaching bilingual education is more than just learning in two languages – it challenges the dominant narrative, promotes social justice and empowers students to embrace their diverse backgrounds. I feel incredibly grateful that I decided to attend that meeting at orientation!
Do you feel that the bilingual education program prepared you for what was to come?
Yes! There was a lot that helped but I really feel like our professors were all just fantastic. All of them were great but there was one professor in particular, Noreen Naseem Rodríguez, who I will never forget. Her social studies course teaching counter-narratives, diverse perspectives and privilege changed my professional and personal life forever. Her class really opened my eyes and made me think about things I had learned growing up, and how when I was an educator I really wanted to focus on the counter-narratives, different perspectives and making sure we're honoring different cultures. She was also so empathetic, encouraging and extremely inspiring.
We also had a great community within our cohort – always relying on each other and supporting each other. That made it really nice as well.
What has your career path looked like since you graduated?
During my undergraduate studies, I did all my student teaching at schools in Austin ISD. After graduation, I moved to California and got a job at a school in Sunnyvale. I was a teacher in a dual immersion program and was teaching math, social studies and language arts all in Spanish. I was at the school for three years and taught virtually and hybrid during the pandemic. After some self-reflection, I decided I needed a bit of a change. I knew I still wanted to work with schools and with teachers, but just in a different capacity and I came across Epic – an app that I used all the time in my classroom and a complete lifesaver throughout the pandemic because of its extensive library of free books for kids. I currently work at Epic and my role primarily has to do with engaging the educator community through our ambassador program, partnerships and business/marketing strategy. I get to share stories about our educators and the students that use Epic which is really lovely because I still get to work with schools and teachers – just in a different capacity.
Along the way, I also started a food blog and social media channel called @chowwithjao. I make cooking and eating videos, featuring recipes from my childhood in Taiwan, from my travels and just food that I love to eat! I taught two live cooking classes with my students and the school community when I was teaching during the pandemic. My passion for food is another reason why my books have been related to foods and recipes.
Your first children's book "El maiz nos une" was just published – congratulations! Can you tell us more about it and how it came to be?
It is actually a fun and interesting story and it all started in a College of Education classroom! The first book I wrote was in a Spanish Methods II class taught by  Desirée Pallais-Downing who asked us to write our own non-fiction children's book. I was super excited about it and because I love food, I decided to write my book about culinary and cultural overlaps between Taiwanese foods and Latin American dishes titled "Abrazos culinarios" or "Culinary Hugs." Years later she was approached by Aparicio Publishing, inquiring if she knew someone who would write a children's book. She remembered what I wrote in that class and reached out to me and of course I said yes! I also wrote another book in a multicultural children's literature class taught by Dr. Brenda Lewis, who is fantastic!
Now here we are and my first non-fiction Spanish book "El maíz nos une" has been published in collaboration with Aparicio Publishing for Amplify Caminos, a Spanish Language Arts Program and Curriculum. This project perfectly combined my love for food, research and learning, as well as my appreciation for the Latinx culture, the Spanish language and children's literature. It will be available in the Amplify Caminos curriculum in Fall 2023 and I am so excited for children to read it!
Basically, the entire opportunity came to be because of a professor from UT; she remembered that I was passionate about writing and recommended me for this book. It is neat to think that this would not have happened without the College of Education.
That is a great story! Were there any other key memories or experiences that made an impact on you during your time at the College of Education?
Yes – definitely my student teaching! Sandra Springer was my absolute favorite cooperating teacher during my internship. I worked with her during my last semester of senior year at Sanchez Elementary School in Austin ISD. She was incredibly inspirational. She was extremely skilled at leading deeply vulnerable and sensitive conversations on topics such as race, immigration and nationality with 9- and 10-year-olds. She led these conversations with compassion, empathy and vulnerability, while supporting students in their processing and development, all while keeping it relevant and tied to curriculum and learning standards. She was my role model in seeing what a teacher can achieve in the classroom. She embodied the values and inspiration that I learned at UT in practice. I'm so glad to see that she's currently working in the college as an assistant professor of practice. Her students are extremely lucky to have her as their professor!
What would you say was the biggest challenge and/or obstacle you faced while you were a student at UT? And how did you overcome it?
I definitely felt imposter syndrome. As a non-native Spanish speaker going into a bilingual education program, I was very self-conscious about my Spanish. I was very sensitive about that when I was in Spain as well. Later in my career, people would get confused when they found out I was their child's bilingual teacher because I'm Asian. I also have a young appearance, which made me feel really vulnerable, because sometimes people would mistake me for a student and question my authority. A few times, I would be walking around in a school and someone would stop me to ask for my hall pass.
It's been a long process to overcome my imposter syndrome and it extended beyond my years at UT. It took a lot of time and conversations with my professors, peers and colleagues. It also helped to think about why I became passionate about education – not with a savior complex but to advocate for all of my students and amplify the voices of underrepresented and underserved populations. As I've helped my students embrace their identities and Spanish as their native language, I've also been able to connect more with my own culture as a Taiwanese American. It's been really impactful to share my experiences with my students and learn from them in return!
It really just takes time and a strong community to build that confidence and to remind yourself that you belong.
What advice would you give to incoming students that are getting ready to start in the College of Education, or current students as they're moving through their journeys within the college?
When I look back on my college days, I realize that I kind of took it all for granted. I was like "Oh, I have to take this class" or "I have to do this thing" and so much of it becomes extremely relevant later on. I wish I would have been more present. So I guess I would say to be present. College is such a great time, enjoy the moments and make connections because they can last a really long time – as we see from my book experience!
What is next for Katy Jao?
Education will always be in my future, that I am sure of. I love my current job in education technology, I also have a passion for working with pre-service teachers (aspiring teachers) and love being in the classroom. So while I am not sure exactly what the future holds, I do know that it will be in education. I also want to continue to grow @chowwithjao because it is such a passion of mine. Overall, I am just excited to see where life takes me!