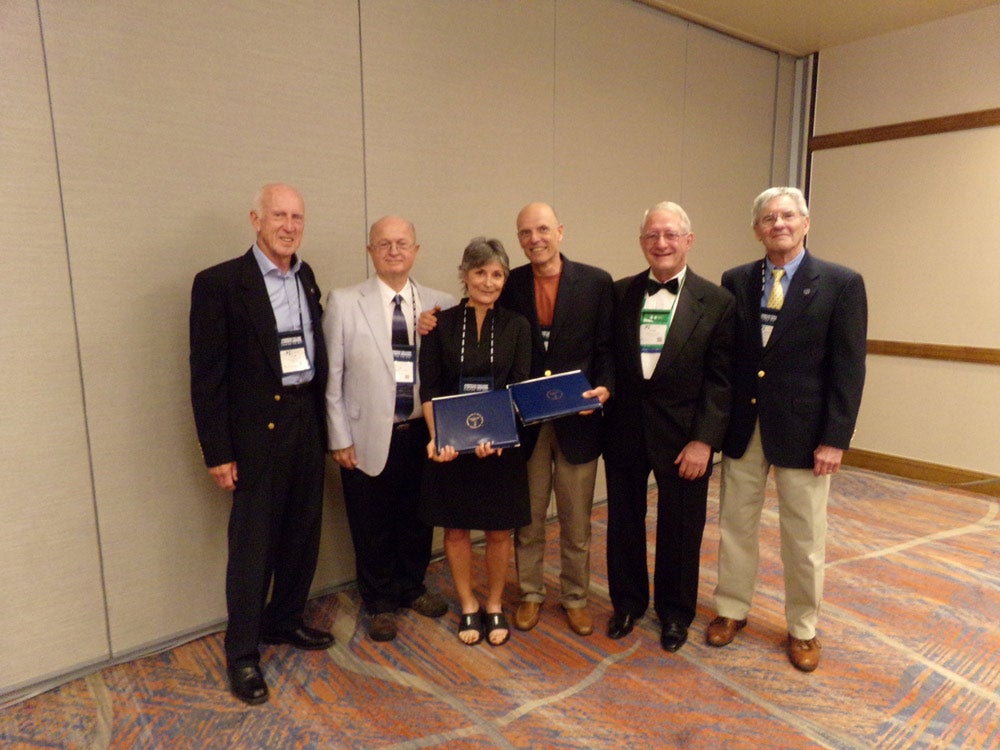 Dixie and Philip Stanforth along with past presidents of the American College of Sports Medicine
Dixie and Phil Stanforth have been named fellows by the American College of Sports Medicine (ACSM).  The ACSM fellowship recognizes significant contributions to the organization in research and service through active participation in the mission of the ACSM.  The careers of Phil and Dixie illustrate this criteria.
The Stanforths are senior lecturers in the Department of Kinesiology and Health Education (KHE) in the College of Education and are recognized nationally for their work in health and sports medicine.
"I could not be happier for Phil and Dixie.  Not only have they been important members of our faculty, they have contributed greatly to the ACSM.  It is wonderful to see those contributions recognized," says Dr. John Bartholomew, department chair of Kinesiology and Health Education.
Dixie Stanforth is a spokesperson for the American Council on Exercise, serves on editorial boards for the ACSM Health & Fitness Journal and GSSI Speakers Bureau, and has been a fitness editor for Shape magazine. She focuses on health and fitness, personal training, behavioral journalism and strategic health communication. She has contributed to the award-winning Gatorade Replay on Fox Sports.
Philip Stanforth is a past president of the ACSM's Texas chapter and is the executive director of KHE's Fitness Institute of Texas, where he oversees 2,000 fitness tests annually and helps develop and deliver health-related programs such as GetFIT, an exercise and weight loss program. He trains undergraduate students in different techniques of fitness testing and has worked with faculty and students on numerous research programs.
ACSM fellows have a high level of professional development in the education of sports medicine and related fields. As ACSM fellows, the Stanforths will actively to contribute to the internal affairs and leadership of the American College of Sports Medicine.