The College of Education's Educational Leadership and Policy Department has relaunched its Executive Ed.D in Higher Education Leadership. The program is seeking working professionals aspiring to high-level roles within education. Submit an application by Jan. 15 to join this dynamic leadership program and lead change in an increasingly complex world of education.
To kick off the launch, Department Chair Victor Saenz moderated a panel to show perspective Ed.D students how Texas higher education leaders deal with difficult and controversial topics on campus, such as mitigating concerns of civil and political discourse surrounding first amendment rights on college campuses.
Speak Courageously
College campuses have quickly become a hot spot for controversial campaigns, causing safety and civility concerns for leaders. But free speech is protected on campuses.
"You can't suppress speech that the public wants to articulate on a public campus," explains Juan Munoz, president of University of Houston–Downtown in response to Saenz's question on reacting to and managing controversial speech. "It is the obligation of universities to educate its citizenry and allow for a civil and reasonable engagement of opposing ideas."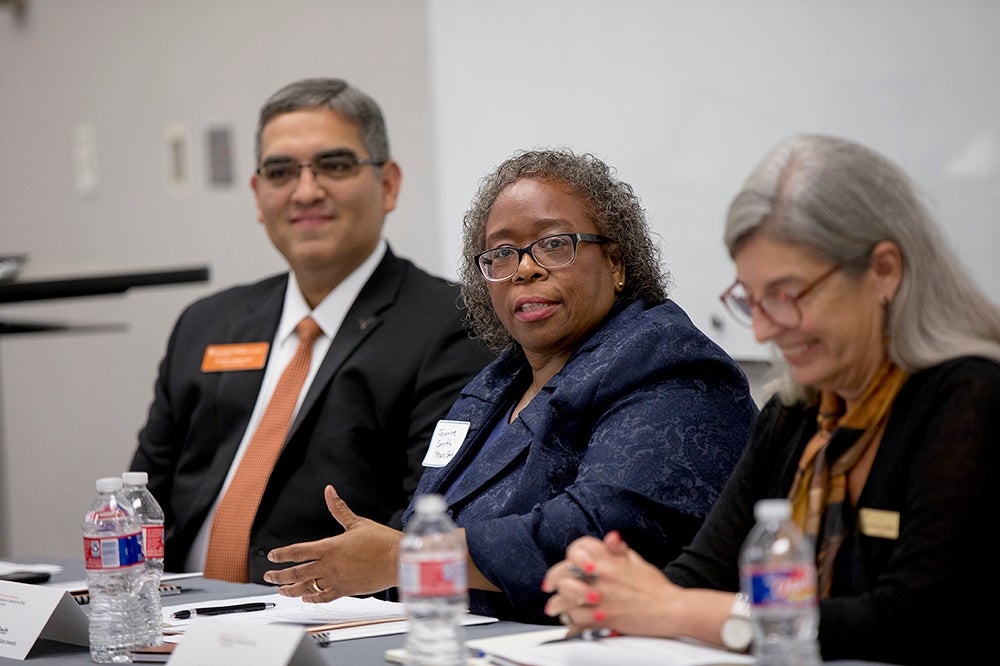 Austin Community College President Richard Rhodes agreed.  "We have an obligation to safety and security but we also believe in the freedom of speech. As a leader that's a delicate walk."
Institutions and their leaders must shift their focus from reacting to the controversy to preparing for it.
At Texas State University, says Joanne Smith, "We've set up protocols and parameters by which people can engage in these conversations and protest within the realm of what's civil." Smith is the university's vice president of student affairs. Texas state has designated protest areas both inside and outside of potentially controversial events, which gives protesters a controlled environment in which to exercise their first amendment rights without undermining the purpose of the institution.
But Speak without Silencing and Speak with Respect
"Free speech on a campus is more widespread than a presenter," adds Trish Roberts-Miller, University Writing Center director at the University of Texas at Austin. "Free speech on campus ranges from classrooms and offices to inside of dorms. One person's free speech can actually silence someone else, especially if it's something threatening."
"We should never argue in a way that we would think was unacceptable if the other side was arguing that way, let's keep the rules equal," she adds.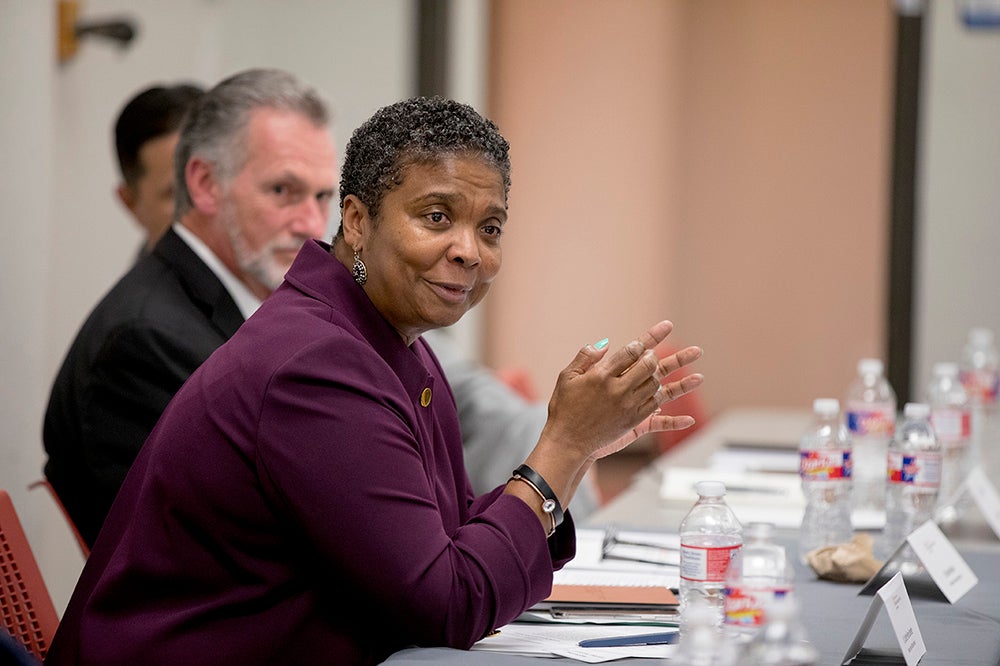 In order to draw the line between free speech and uncontrolled speech on campus higher education leaders must have discussions with students about how to appropriately express their feelings in a way that gets people to hear what they're trying to say.
Colette Pierce Burnett, president of Huston-Tillotson University, explains how important it is that students are informed on a topic and can make an informed argument, referring to the Colin Kaepernick controversy as a "teaching moment" and example of how being unaware of the background of an issue can lead people to make misinformed arguments.
Teaching moments like that, says Burnett, provide faculty, staff, and students with opportunities to build relationships that open the door to conversations about the power of their voice and the impact that they can make.
"Leaders must be willing to have courageous conversations on campus," says Rhodes.
Applications are currently open for the Executive Ed.D in Higher Education Leadership. Visit the Ed.D program page for more information or learn how to apply to become a part of the inaugural cohort for summer 2019.