Elizabeth Gabriel
Nov. 4, 2018
Many teenagers' fascination with virtual worlds online can result in isolation from natural and cultural environments, says College of Education Curriculum and Instruction doctoral students Wenting Ellen Zou and Hsiao-Ping Hsu. "Yet education is in constant change and technology plays a vital role in changing the ways we are teaching and learning," they say.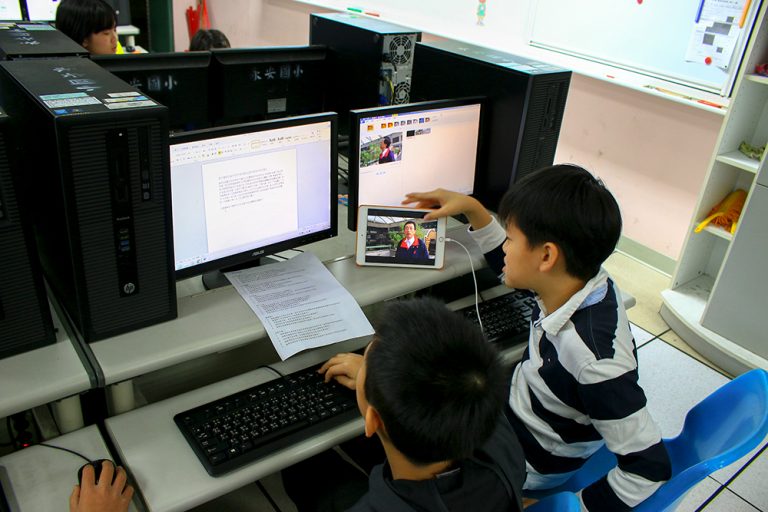 Their award-winning project originated from previous research that analyzed how social media supported project-based learning in K-12 digital literacy. The two built international partnerships with two K-12 Taiwanese schools seeking to increase their external resources to develop immersive technology-based pedagogy to design a curriculum and investigate the potentials of augmented reality (AR) and virtual reality (VR) in digital literacy education.
Conducting the Research
Their pilot research in Taiwan examined the program outcomes from the two schools. Student participants produced creative AR/VR products that were later embedded in formal curricula for teaching over 1,100 students. The positive results encouraged them to implement the program across additional school districts.
In the afterschool program, high school students used VR and AR creation tools (Roundme and Aurasma) to build artifacts, products that students made by using virtual reality (VR) and augmented reality (AR) technologies, to introduce local natural and cultural heritage. In this process, a variety of online tools were used to facilitate self-directed learning (YouTube), critical thinking (internet search engines), collaboration and communication (Google or One Drive and Facebook or Edmodo), and problem-solving (Xmind). Students used their own smartphones and tablets or borrowed devices from schools.
In their partner elementary school, students created AR student ID cards and used AR storytelling for individual projects while also creating a mobile AR Campus Tour Guide System as a group project. The middle school students created a mobile AR/VR Tour Guide System for a local ecological and historic preserve park of their community. This system was also used as formal instructional material in the school, which they documented.
Results
By watching the children creatively design and interact with the content using various digital tools, Hsiao and Wenting noticed students' creativity, communication, collaboration, information management, and problem-solving abilities improve. Their research can assist educators who want to create curricula using AR, VR, and other digital literacies.
"Our approach expands the knowledge scope related to AR/VR in digital literacy education. Teachers not only developed experience and skills in conducting project-based instruction, but also acquired knowledge of AR/VR, social media in digital literacy as well as 21st century education skills," say Hsiao and Wenting.
The project earned third place in the 2018 Reimagine Education Awards Competition and was supported by Associate Professor Joan Hughes of The University of Texas at Austin.
-Inside photos provided by Wenting Ellen Zou and Hsiao-Ping Hsu.