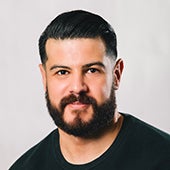 Kinesiology and Health Education Assistant Professor Miguel Pinedo has received the National Award of Excellence in Research by a New Investigator from the National Hispanic Science Network.
Pinedo's research focuses on how migration-related factors contribute to health disparities related to substance abuse, mental health, and related harms among Latino populations in the United States and Mexico.
Pinedo directs the Migration and Health Lab and teaches courses in health promotion and epidemiology.