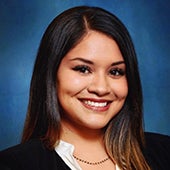 Postdoctoral Fellow Genesis Arizmendi has received the Distinguished Early Career Professional (ECP) Certificate awarded by the American Speech-Language-Hearing Association. The certificate was created to recognize and identify ECPs in the fields of audiology and speech-language pathology who are making an impact in the areas of leadership, volunteering, or advocacy at the local, state, and/or national levels.
Arizmendi, who earned her Ph.D. in Speech, Language, and Hearing Sciences at the University of Arizona in 2019, joined the Texas Center for Equity Promotion in the College of Education as an Early Career Fellow this fall. Professor Doris Baker and Associate Professor Sarah Powell, both in the Department of Special Education, are serving as Arizmendi's mentors.
The Early Career Fellows are charged with developing research programs that address urgent educational and health disparities impacting Latino/a populations. Arizmendi is focusing on improving clinical practices and educational decision-making for culturally and linguistically diverse populations.