Career Paths for Teachers
Career Engagement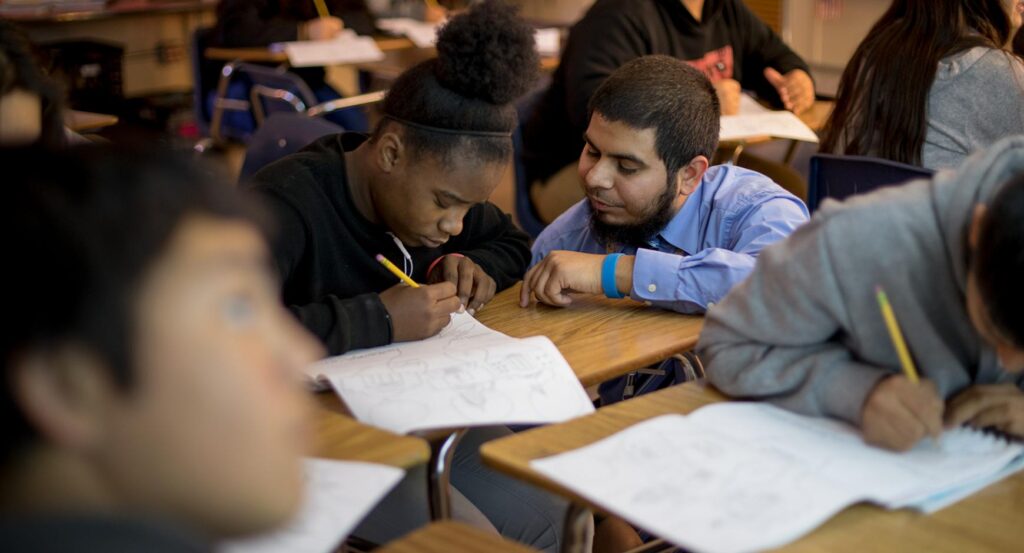 A degree in education creates many opportunities for people who are invested in teaching and enriching the lives of children. Our teachers are thoroughly prepared to be leaders in their schools and classrooms and take on administrative, research, and leadership positions in their future careers.
A Leader in the Classroom
Our teachers complete ample hours of fieldwork and student teaching so that they are prepared from day one to create a stimulating, culturally responsive classroom where all students can learn and thrive. After you gain classroom teaching experience, opportunities may arise to expand your responsibilities in your school. Many of our teachers enhance their careers by becoming:
Mentor and Master Teachers
After teaching for three years, you are eligible to start the process of becoming a master teacher in a specified subject. As a mentor teacher, you will help student teachers and new teachers find their comfort zone in the classroom. This position will allow you to teach children as well as adults who are adjusting to being classroom teachers. Master teachers serve as leaders in their school, ensuring that students are achieving certain academic standards and while helping other teachers develop their skills as educators.
Instructional Specialists
Help improve the teaching methods of colleagues by becoming an expert in pedagogy. Instructional specialists work to improve the curriculum and ensure that children are learning through the best resources available and with technologies that keep them engaged.
Teaching Middle or High School Electives
The College of Education primarily provides programs for those interested in teaching Pre-K and elementary school students, special education students, and students in urban settings. Programs are available across the university for certification to teach middle and high school; music, art, or dance; and foreign languages.
Open Doors by Pursuing an Advanced Degree
A master's or doctoral degree will further prepare you to improve education standards, develop innovative curriculum, and become an advocate for underrepresented communities in education.
Contact Career Engagement
Sánchez Building
Monday – Friday
8:00 a.m. – 5:00 p.m.